Kent and Sussex hosepipe ban announced from 12 August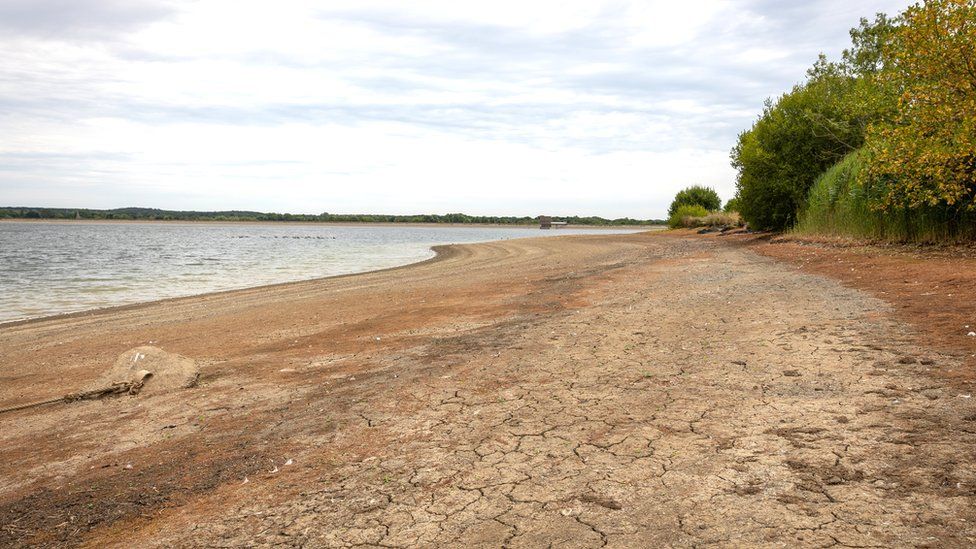 A hosepipe and sprinkler ban is being imposed on people across Kent and Sussex, South East Water has confirmed.
The firm said it "had no choice" following the driest July on record.
The measure, which comes into force on 12 August, affects at least one million people, and rule-breakers could be hit with a £1,000 fine.
It follows pleas from the water company for people to only use water for essential purposes during hot weather warnings and shortages last month.
The firm said it would be "relying on people's goodwill" to observe the ban, but urged people to contact them if a neighbour is ignoring the restrictions in place.
The ban will prohibit people from using a hosepipe to water plants, wash the car or fill a paddling pool or pond.
Anything designed, adapted or used to serve the same purpose as a hosepipe cannot be used, like sprinklers and irrigation systems or pressure washers.
By Yvette Austin, environment correspondent, BBC South East
This hosepipe ban should come as no surprise. South East Water's supply has clearly been under strain.
We've had serious interruptions to supply, with record temperatures and the driest July since 1935, so demand for water has rocketed.
On the other hand, water companies generally say hosepipe bans will come in after two dry winters. We've only had one dry winter.
Their two reservoirs in Arlington and Ardingly aren't at the lowest levels that we've ever seen, but clearly South East Water is extremely worried about the coming months.
There's much pressure on the water companies to reduce their leakage rates. South East Water loses about a sixth of all the water it supplies, and so this isn't going to go down well with their customers.
The water company spokesman added: "We have been producing an additional 120 million litres of water a day to supply our customers, which is the equivalent of supplying a further four towns the size of Maidstone or Eastbourne, daily.
"We have been left with no choice but to restrict the use of hosepipes and sprinklers."
Will there be a hosepipe ban in my area?
Thames Water said their reservoirs were below their normal levels and that "if we do not receive around or above average rainfall in the coming months this will increase pressure on our resources and may indeed result in the need for more water saving measures including restrictions"
South West Water said that "if the exceptional levels of demand and sustained dry weather continues we may have to make the difficult decision to introduce formal restrictions over the coming weeks"
SES Water said they were keeping the need for restrictions under close review but working to "minimise the need for any restrictions in the coming weeks and months"
Affinity Water said they shouldn't need to introduce any restrictions, but added that they were dependent on rainfall in the coming months
Anglian Water said they continued to monitor water levels but had no plans for any restrictions
Wessex Water said they were not facing any supply issues but added that they "always encourage our customers to use water responsibly"
Portsmouth Water has told customers they are "not considering applying for a hosepipe ban at this point in time"
Severn Trent Water said their region had experienced a dry start to the year but added that it hadn't seen a hosepipe ban since 1995, and that they continue to monitor reservoir levels closely
Bristol Water, Northumbrian Water, and South Staffordshire Water have been contacted for comment
David Hinton, CEO of the firm, said the dry ground conditions and the resulting earth movement had caused a 50% rise in the number of burst pipes.
Last month, South East Water's director of operations, Douglas Whitfield, said he was concerned about water levels and pleaded for customers to "really think carefully about their water use... and use water for essential use only".
However, at the time he expected water concerns to be a "short-term" issue.
The reason the ban is not being enforced immediately, Mr Whitfield said on Wednesday, is because there are processes and a "drought plan" the firm must follow, including a week of consultation and discussion.