Channel Migrants: New daily high for 2022 set on Monday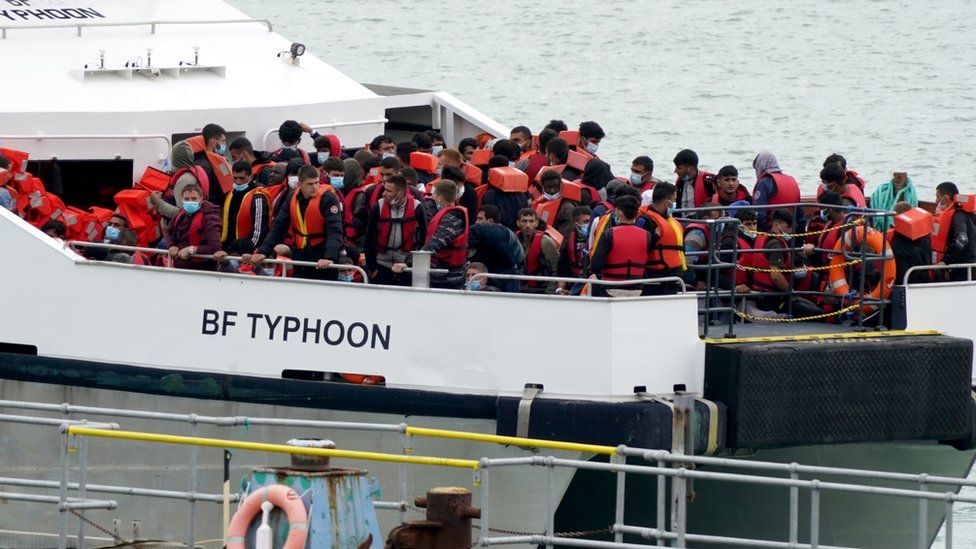 Almost 700 migrants crossed the English Channel in 14 small boats on Monday, a daily high for the year so far.
The Ministry of Defence said 696 migrants made the crossing, topping the previous daily record of 651 in April.
The French authorities stopped two boats at sea with 35 people on each.
More than 17,000 people have arrived in the UK after navigating busy shipping lanes from France in small boats so far in 2022, according to Government figures.
Last year, 28,526 people are known to have crossed in small boats - up from 8,404 in 2020.
Many migrants come from some of the poorest and most chaotic parts of the world, and many ask to claim asylum once they are picked up by the UK authorities.
'Unnecessary and illegal'
A government spokesman said: "The rise in dangerous Channel crossings is unacceptable.
"People should always claim asylum in the first safe country they reach, rather than risk their lives and line the pockets of ruthless criminal gangs in order to cross the Channel."
The spokesman added that the government was "continuing preparations to relocate those who are making dangerous, unnecessary and illegal journeys into the UK in order for their claims to be considered and rebuild their lives".
Dover's Conservative MP Natalie Elphicke called for the French authorities to do more.
"France has a moral and international obligation to protect vulnerable people, save lives, stop people smugglers and tackle organised crime," she said.
She also said the "small boats crisis must be a key priority of the next Prime Minister".
Related Internet Links
The BBC is not responsible for the content of external sites.