Tony's Law: Child abusers face tougher sentences as law changes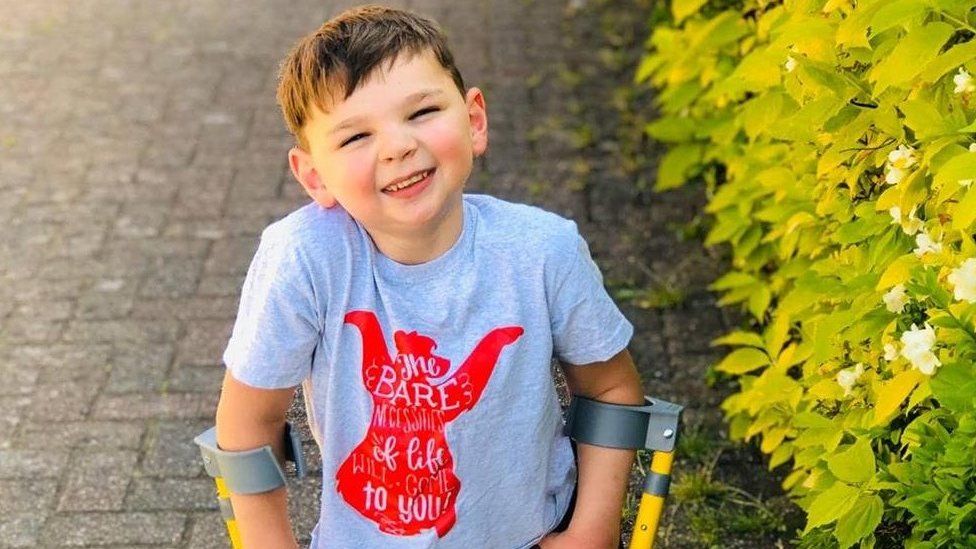 Child abusers in England and Wales could now face life in jail as tougher sentencing powers come into force.
The maximum sentence for anyone who causes or allows a child's death has now increased from 14 years to life.
The maximum penalty for causing serious harm to a child has also gone up, from 10 to 14 years.
Paula Hudgell, who lives in Kings Hill in Kent, said: "It feels quite surreal. We knew it was coming but for it to actually be here is absolutely wonderful."
Tony was attacked by his birth parents when he was a baby and left with life-changing injuries.
He suffered multiple fractures, was left deaf in one ear and had to have both his legs amputated.
His abusers were sentenced to 10 years in prison in February 2018 - the maximum sentence possible at the time.
Ms Hudgell said: "We realised the sentences really weren't strong enough to fit the crimes, so I got on to my MP and we worked side-by-side and managed after a long time to actually get this through."
She said it had been "a very long four years" but it would "make such a difference to the sentencing powers for the judges from now on".
And she paid tribute to Tonbridge and Malling MP Tom Tughendhat, who backed her.
"I couldn't have done it without him," she said. "He has more or less held my hand all the way through."
Mary Trevelyan, of counselling charity Family Matters, welcomed the change.
She said: "I'm not sure tougher sentencing will be a deterrent but it's a start, to say that the rest of society takes it very seriously."
However, criminal defence solicitor Malcom Fowler said that despite being "humbled by the bravery" of Tony Hudgell and "filled with admiration" for his adoptive parents, he had concerns.
He said: "If you give something a label it is beginning to look as though one size can fit all.
"We, as lawyers, know that is the very reverse of the case. And constantly ratcheting up prison sentences is the very reverse of an answer".
However, Laura Hoyano, emeritus professor of law at Oxford University, said: "It's important sentences have the potential to reflect the full extent of the harm inflicted on a child.
"And I have long felt the maximum sentences were too low. So I applaud the persistence of Mr and Mrs Hudgell in securing this change. It's no mean feat."
Justice Secretary Dominic Raab previously said the new legislation would provide "maximum protection to the most vulnerable".
Related Internet Links
The BBC is not responsible for the content of external sites.