Channel migrants: Hundreds make the crossing in small boats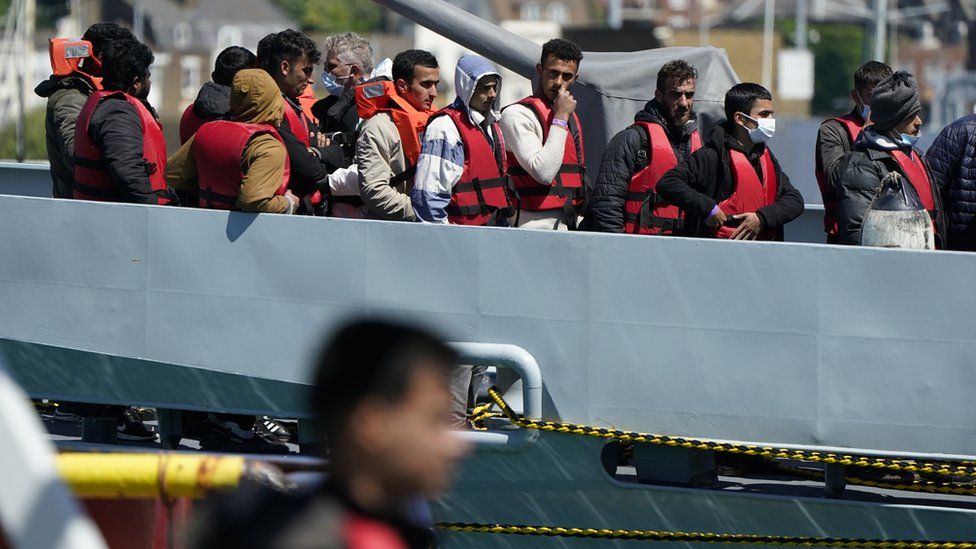 About 250 migrants have been seen being brought ashore at Dover after crossing the English Channel.
A number of people have also arrived in Dungeness and Ramsgate, according to BBC reporter Simon Jones.
It brings the total number of people making the crossing in small boats to over 10,500, according to figures collated by the BBC.
The Ministry of Defence has yet to confirm the number of arrivals on Tuesday.
About 8,400 migrants crossed 2020. More than 28,000 made the journey in 2021.
This year's total is more than double what it was during the same period last year.
By Simon Jones, BBC South East
It's been another busy day for Border Force and the RNLI.
Women and children have been among those being brought ashore here at Dover but the vast majority have been young men.
A number of people have also arrived in Dungeness and we're hearing another group of people have been brought in at Ramsgate by the lifeboat.
Here in Dover you get a real sense of what the government is grappling with, with seven or eight people due to be on the first removal flight to Rwanda this evening.
It is thought to be aimed mostly at single young migrants who arrive through "illegal, dangerous or unnecessary methods," such as on small boats or lorries.
Rwanda would take responsibility for those sent there and has said migrants would be "entitled to full protection under Rwandan law" with equal access to employment and services.
A government spokesman said: "Under our new Migration and Economic Development Partnership with Rwanda, those making dangerous, unnecessary and illegal journeys may be relocated there to have their claims considered and to rebuild their lives, with the first flight expected to take place on 14 June."
Related Internet Links
The BBC is not responsible for the content of external sites.