Dover queues: Traffic builds on the A20 in Kent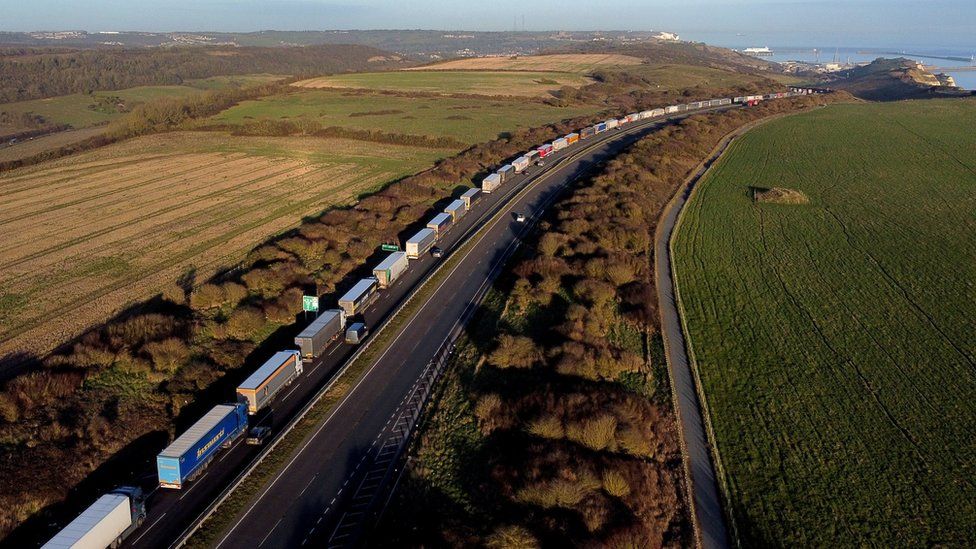 Lengthy lorry queues have built up on the main road heading into Dover.
Freight heading to the Port of Dover is being managed by National Highways as traffic in the area builds and queues form on the A20.
A port spokesperson said it was using "a well-established and regularly used normal operational tool" to manage traffic in the area.
Ferry firm DFDS said there were "short delays" on the cross-channel route as they were operating one less vessel.
The Dover Traffic Assessment Project (TAP) has been implemented on the A20 eastbound.
It enforces a 40mph speed restriction on the A20 approaching Dover, and lorry drivers heading for the port must remain in the left lane, closing that lane to other traffic.
A Port of Dover spokesperson said: "TAP is a well-established and regularly used normal operational tool to help manage traffic flows into the Port of Dover at busy times and it has been for a number of years.
"This was the case yesterday [Friday] as it has been similarly over the past few days."
A DFDS spokesperson said it was refurbishing a ship which normally operates on the Dover route.
The spokesperson said: "With traffic returning to normal levels after the Christmas and New Year holidays, there have been short delays but we are working to make sure everyone gets on the earliest crossing possible."