East Kent baby deaths: Trust was short of staff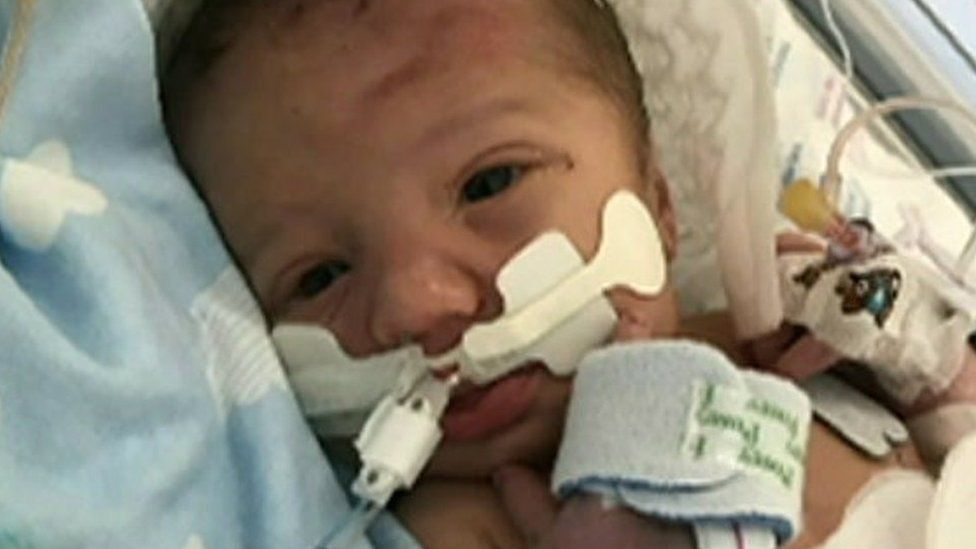 There were not enough maternity staff to keep mothers and babies safe at a hospital trust at the centre of a baby deaths scandal, inspectors have found.
The Care Quality Commission (CQC) found at times staff numbers were so low at the East Kent Hospitals Trust that women had to be transferred to different hospitals during labour.
Since 2011, 15 babies have died in the trust's care.
The trust said it was committed to providing a safe, high-quality service.
Unannounced inspections of the trust's maternity services and services for children and young people were carried out in July.
The CQC said it investigated after receiving "information of concern" about the services and it was also following up on the progress of previous improvements the trust had been told to make.
Concerns were initially raised about maternity services at the trust after a coroner ruled the death of week-old Harry Richford at Margate's Queen Elizabeth the Queen Mother Hospital (QEQM) to be "wholly avoidable".
Inspectors raised a number of concerns about maternity services, mainly surrounding staff shortages.
Women were sometimes transferred to other hospitals during labour, when maternity staffing levels were felt to be unsafe, inspectors found.
Amanda Williams, the CQC's head of hospital inspection, said: "When we inspected the maternity services, we were concerned that there were not enough midwifery staff and maternity support workers to keep women and babies safe.
"We were also concerned that some staff were feeling exhausted, stressed and anxious, because mistakes can easily be made when people's judgement is impaired by fatigue."
Ms Williams said: "Staff did not always take the time to report all incidents around staffing and capacity issues. Staff felt that continually reporting short staffing had not improved the situation."
She said: "I still think about my daughter all the time and it's very sad that instead of simply being able to think about her and how sad that she's not here, all this carries on.
"I end up talking to other parents who have lost babies and it's really frustrating. It's taking so long for there to be sufficient improvements."
To cope with staff shortages financial incentives were offered for working longer hours, inspectors found.
Community midwives were being drafted into acute units, working up to 20 hours a day.
Inspectors also said there was potential at risk mothers and babies were not identified after visits to new mums were done over the phone, which was against national guidance.
The trust instigated an action plan after concerns were raised by the CQC, which included hiring new midwives, stopping homebirths and redeploying those midwives to hospitals.
Rosie Duffield, the Labour MP for Canterbury, said: "Local mums are very worried and concerned. They tell me of their recent experiences of disjointed care and overstressed, overworked maternity staff.
"Expectant mothers need to have confidence that the service they receive will be safe, and of the highest standard."
Analysis by Mark Norman, health correspondent, BBC South East
When you speak to the families of those affected by the issues at East Kent Hospitals maternity department they use the word "denial".
Many believe the trust has still to fully understand and address the concerns parents have raised for many years. Today's report reinforces that belief for them.
Almost 200 families have given evidence to the ongoing Kirkup review and it is my understanding that review is now speaking to hospital staff.
The publication of the review due next year will no doubt be a difficult read for these parents, but all express a hope that it will bring about fundamental and long lasting improvements to maternity services in East Kent.
Inspectors praised the trust for progress made in children and young people's services.
They were found to have made "significant improvements" and their rating was upgraded from "inadequate" to "requires improvement".
The CQC said the service was valued by those who used it and found that staff focused on the needs of children and parents.
Sarah Shingler, chief nursing officer at the trust, said she was glad the CQC had recognised improvements for children and young people and said the trust had struggled with staffing shortages even more during the pandemic.
"We continue to work hard to support our midwives' wellbeing and help them provide a safe, high quality service for women and babies.
"This includes a £1.6m investment to fund an additional 38 additional midwives with 26 already in post," she said.
Related Internet Links
The BBC is not responsible for the content of external sites.