Animal rescue centre told planning bid 'proper whack'
By Lizzie Massey
BBC South East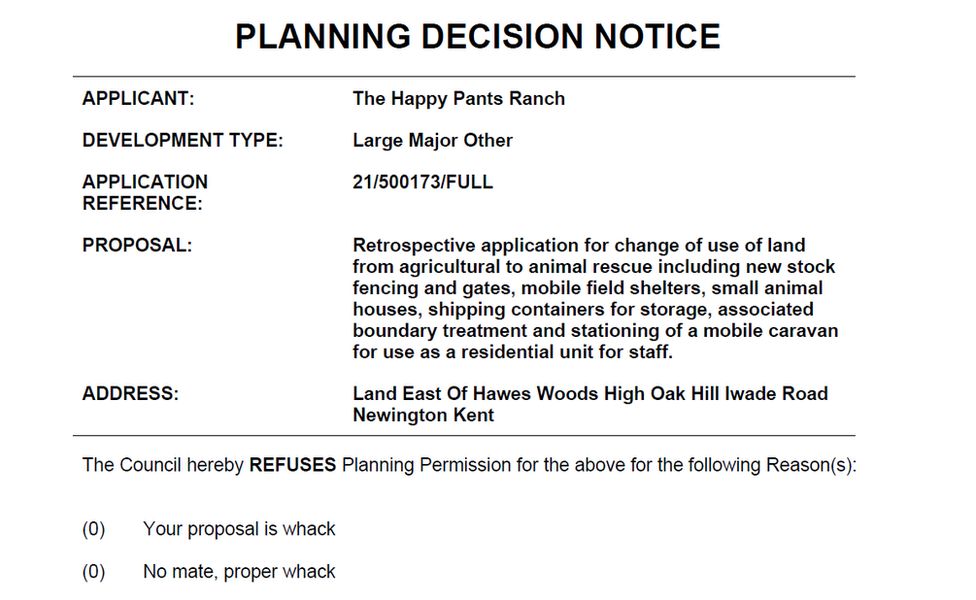 An animal sanctuary boss was left shocked when her planning application was turned down on the grounds it was "proper whack".
Amey James, owner of Happy Pants Ranch, Kent, had been awaiting a decision for six months.
When finally issued with a refusal she found the street slang - meaning "very bad" - given as the reason.
Swale Borough Council blamed an error but said published decisions must be overturned by a court.
Ms James was among five applicants who found the bizarre comments on their submissions.
Another, to partially demolish The Wheatsheaf pub in Sittingbourne to build flats and a micropub, was approved on the grounds of "Incy. Wincy. Spider".
A third was approved with the text: "Why am I doing this am I the chosen one", and the fourth simply listed numbers one to 20.
Once published decisions are legally binding and each must be officially overturned by a court, the council said, meaning a further delay of at least three months before the cases could be reconsidered.
"This language was used by a junior officer with no knowledge of any of the applications, who believed they were working solely in a test environment and that the comments would never be published," the authority said in a statement.
Ms James said she "nearly had a heart attack" when she read the decision as "the whole future of the charity" hangs on the development of her ranch, which now faces further delays.
Ms James said the blunder showed the "constant poor management, security and communication of the council".
The error by the Mid Kent Planning Support team also affected a sixth application from Maidstone Borough Council.
An application for a farm in Marden to convert an outbuilding into a holiday let was refused with the explanation "Don't even bother re-applying lol. Not even joking lmao."
Maidstone Borough Council leader David Burton said the error was "regrettable" and added: "I would like to apologise for any offence caused."
Swale Borough Council offered an explanation for the error, and said: "Officers for Mid Kent Planning Support team were testing a solution for issues with the software behind the public access site.
"During this testing an error occurred, which published dummy decision notices on five randomly selected Swale applications on the live system.
"Legal advice has subsequently confirmed they are legally binding and must be overturned before the correct decisions are made."
Swale Borough Council estimates it will cost £8,000 to overturn the affected decisions.
Related Internet Links
The BBC is not responsible for the content of external sites.