Channel migrants: Children among those brought ashore at Dungeness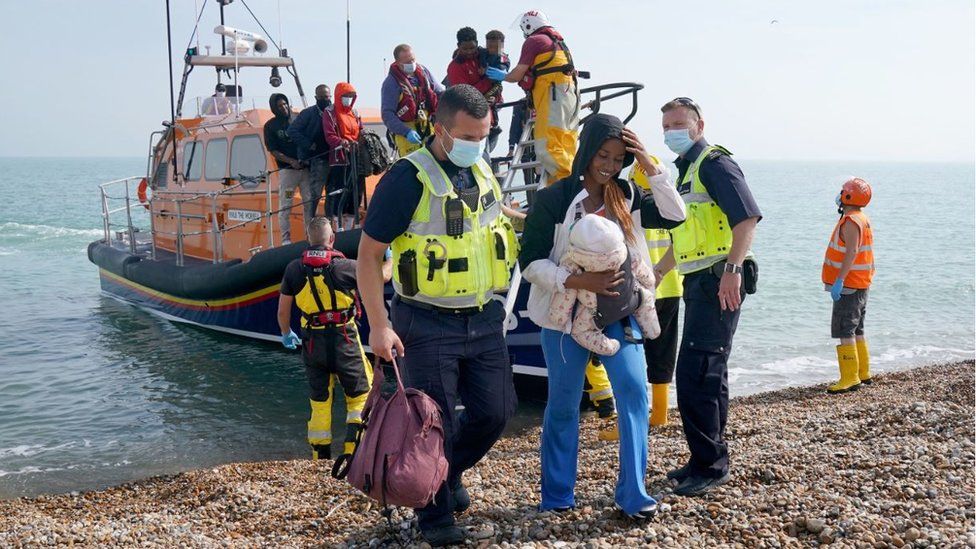 Several young children were among a large group of migrants seen being brought ashore after trying to cross the English Channel.
A packed lifeboat was pictured arriving on the beach in Dungeness, Kent, before officials led the passengers away.
A steady stream of crossings was thought to be have taken place amid calm waters and sunny skies.
The Home Office would not confirm the number of migrants picked up on Monday "until all events were concluded".
Dan O'Mahoney, Clandestine Channel Threat Commander, said: "This unacceptable rise in dangerous crossings is being driven by criminal gangs and a surge in illegal migration across Europe.
"We're determined to target the criminals at every level."
On Sunday, 158 people were picked up in four boats, four days after another seven people were "intercepted".
That brought the total of people arriving in small boats so far in 2021 to more than 12,500. Just over 8,400 arrived in 2020.
However, the UK continues to see far fewer boat arrivals and asylum claims than many of its European counterparts.
Earlier in Parliament, answering a question from Conservative MP Jacob Young, Prime Minister Boris Johnson said: "Our friends across the Channel in France are faced with a very difficult problem.
"A large number of people want to come to this country, and we are doing everything we can to encourage the French to do the necessary and impede their passage.
"But I know the Home Secretary is working right around the clock to ensure that we not only encourage the French to stiffen their sinews and stop people making the journey, but we use every possible tactic available to us as well."
Related Internet Links
The BBC is not responsible for the content of external sites.