Channel migrants: French prosecutors investigate death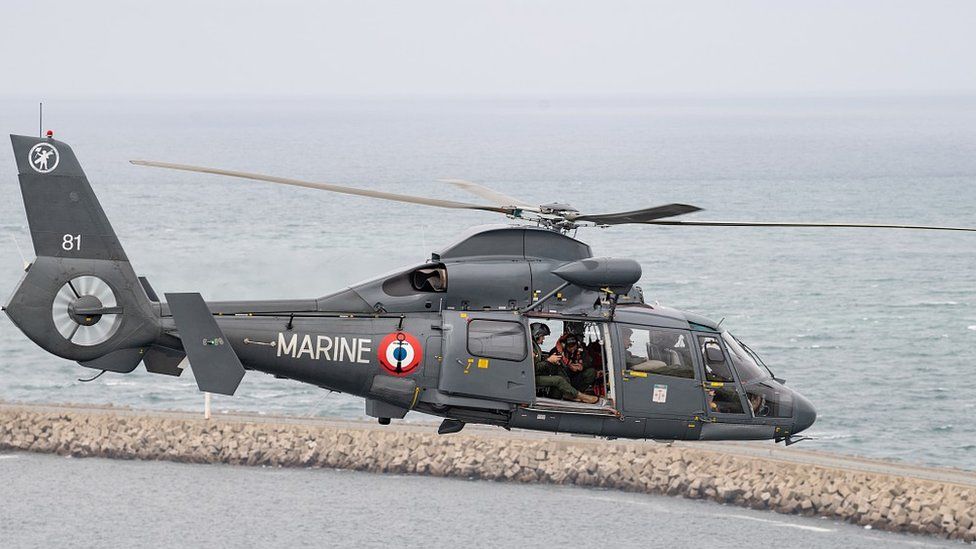 French prosecutors have begun a manslaughter investigation after a migrant died trying to cross the English Channel.
The man, who is thought to be from Africa and was aged between 25 and 30, died in hospital in Calais after being winched from the sea on Thursday.
He was one of 36 people in a boat which began to sink off Gravelines.
A French charity said the man, who was onboard with his girlfriend, had dived into the water to lighten the load.
Several men were winched from the sea by a Belgian helicopter, with others rescued by nearby fishing boats.
Nikolaï Posner of migrant charity Utopia 56 said he spoke to the survivors after they were brought back to port in Dunkirk on Thursday.
One woman said her 27-year-old boyfriend, from Eritrea, was one of five men to jump in the water, Mr Posner said.
"The boat was starting to sink, so they wanted to reduce weight," he said. "The people jumped [into] the water... all the people have thrown all their luggage in the water as well, to make their boat lighter," he said.
The woman, who said she was 22 and from Eritrea, was later taken to the hospital in Calais by police to identify her boyfriend's body, according to Mr Posner.
More than 160 people were rescued after several boats got into difficulty on Thursday, French maritime authorities said.
A further 31 people, including nine children, were rescued from a stricken boat and returned to Dunkirk on Friday.
Labour's shadow home secretary Nick Thomas-Symonds said: "This is a tragic loss of life and our thoughts are with the family and friends.
"Conservative ministers must urgently get to grips with this situation, get a meaningful deal in place with France that stops organised crime gangs profiting from vulnerable people and address the factors that are driving people to take these incredibly dangerous routes."
Phil Kerton, of refugee support group Seeking Sanctuary, said it was "another pointless tragedy," continuing: "We express our sympathy for the relatives of a fellow human being whose hopes for a safe and decent new life have been so cruelly erased."
Members of the organisation on Friday planned to lay flowers at a memorial in Dover, which commemorates the death of all those who have died trying to reach the UK.
Mr Kerton said it appeared that "longer and more risky sea crossings are being attempted in order to bypass increased coastal security near Calais".
So far in 2021 more than 10,000 people have reached the UK after crossing the English Channel in small boats.
The government is currently pushing the Nationality and Borders Bill through the House of Commons, which it said will be tougher on people smugglers.
Following yesterday's death, clandestine channel threat commander Dan O'Mahoney, said: "This loss of life underlines the terrible dangers of small boat crossings and why we must work together with the French to prevent callous criminals exploiting vulnerable people."