Dungeness B: Kent's last nuclear power station closes early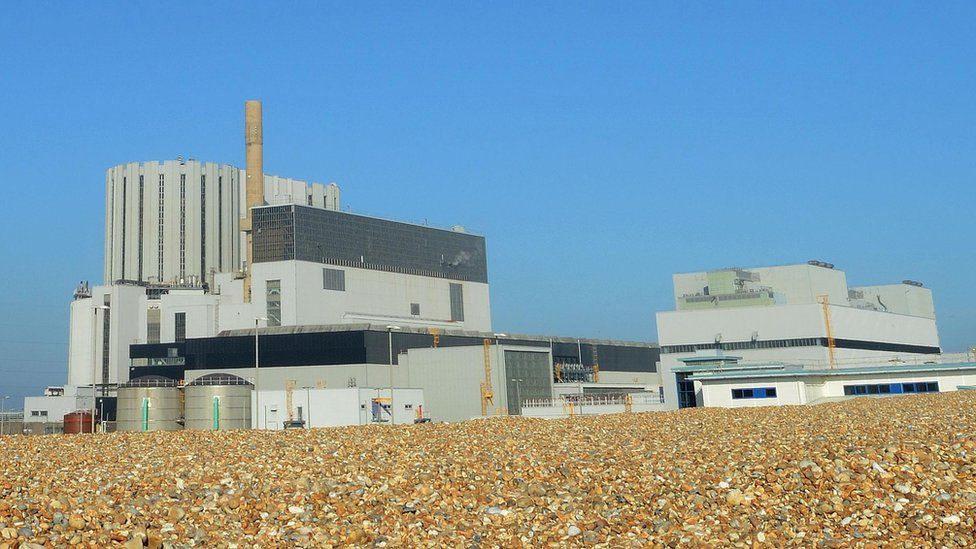 The final nuclear power station on the Kent coast is to close ahead of schedule after issues found within the reactors rendered it beyond repair.
Dungeness B shut for repairs in 2018, but had been forecast to begin producing electricity again in August.
Owners EDF said defuelling would begin immediately and last several years.
The GMB union said workers had been "stunned" by the decision to begin defueling the station, which had been scheduled to run until 2028.
It marks the end of more than 50 years of generating nuclear power in the region, after neighbouring Dungeness A ceased production in 2006.
The station, which is on the tip of a headland surrounded by a nature reserve, employs about 500 staff, with a further 250 contractors working on the site.
Most jobs are expected to continue through the defueling process, which could take up to ten years, French energy giant EDF said.
Folkestone and Hythe MP Damian Collins said that while the majority of jobs were secure for many years to come, he would "continue to work for the long term future of the nuclear industry" in the area.
"I will continue to press for new generation nuclear power at Dungeness, through the deployment of small modular reactors," he said.
Gary Carter, of GMB, said that although workers were aware of plans to speed up decommissioning, union members at Dungeness were "stunned" by the decision to move immediately to defueling.
"What is needed now is certainty and security for the workforce," he added.
The trade union Prospect, which represents scientists, engineers and other specialists, said it would work with EDF to "ensure the retention or redistribution of as many jobs as possible over the coming years".
The station went offline in 2018 and inspections found issues, including corroded pipelines.
More than £100m was spent on repairs, but further problems were found with boilers inside the reactors that could not be replaced.
It had originally been due to close in 2008, but after two ten-year extensions, was expected to continue generating until 2028.
Station director John Benn said Dungeness B had "been a cornerstone of life in Kent for decades".
"It is a very special place and the team has a real sense of family - we are part of the community," he added.
Mr Benn said the EDF had taken a "hard decision" that would provide "our teams, our community and our business a clear understanding of the future".
Sue Ferns, Prospect's senior deputy general secretary, said Britain faced an "energy gap" between demand and supply without greater government investment.
"If we are to achieve our net zero goals and maintain security of supply it is imperative that the government stops prevaricating and gets on with the job of building a new generation of nuclear power stations," she said.
Related Internet Links
The BBC is not responsible for the content of external sites.