Tories maintain majority in Kent County Council elections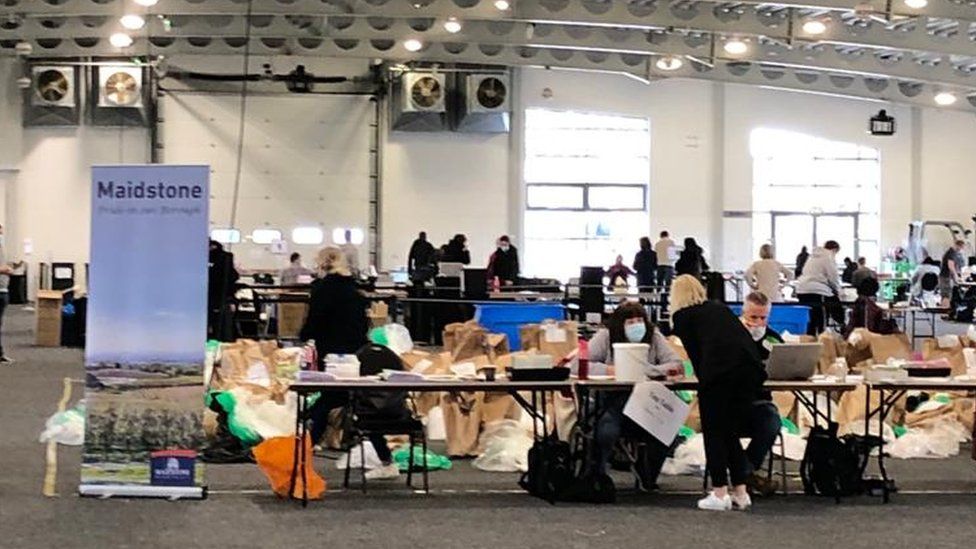 The Conservative Party has maintained its majority on Kent County Council after local elections, despite the loss of some seats.
The Tories have won 61 seats, with the Elham Valley election set to take place at a later date.
The leader of the Kent Labour group, Dara Farrell, lost his seat in Ashford South to Conservative Dirk Ross.
Elections have been held across Britain in the biggest set of votes since the 2019 general election.
Karen Constantine, who has been elected as a Labour councillor for Ramsgate, tweeted that Mr Farrell had been an "inspirational leader" and described his loss as a "great shame".
A total of 80 councillors from 71 electoral divisions have been elected to Kent County Council.
The election of a county councillor in the Elham Valley division was cancelled following the death of a candidate.
A new election will take place for the division at a later date.
In the 2017 elections, the Conservatives won 67 seats, with 50% of the vote.
Despite retaining its majority, the party did suffer some losses.
The Liberal Democrats gained Canterbury South and Sevenoaks Town, while Swale Independents took Swale West.
The Labour & Co-operative Party gained Canterbury City North from the Tories, while Labour seized Folkestone East and Dartford North East.
The Tories also lost Swale East and Tonbridge to the Green Party.
Meanwhile, councillors are also being elected to borough councils in Maidstone and Tunbridge Wells.
The Conservatives have taken control of Maidstone after gaining five seats, now giving them an outright majority.
At the count in Detling, Martin Cox, Liberal Democrat leader of Maidstone Borough Council before the vote, described it as "an election like no other".
He said they "knocked on doors" in just two wards as they did not want to put people at risk.
Tories left one seat short
The Conservatives have lost control of Tunbridge Wells Borough Council for the first time since 1998.
Out of the 19 seats contested this year, they retained nine, leaving them with a total of 24, one short of the number needed for a majority.
The Liberal Democrats gained four, giving them a total of 13, while Labour gained one, to reach five seats in total, the same number as the Tunbrige Wells Alliance, which also gained a seat.
There is also one independent.
Related Internet Links
The BBC is not responsible for the content of external sites.