Julia James: Dog tested for DNA evidence from PCSO's killer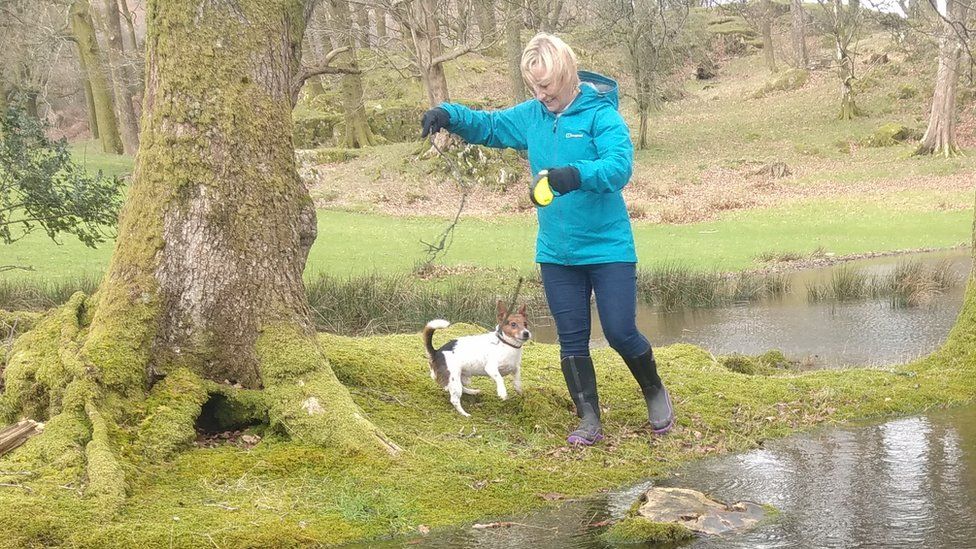 A murdered police community officer's dog may provide vital evidence as the search for her killer continues, Kent Police have said.
Fingertip searches continue in the area, but no motives or suspects have been identified, police said.
Earlier police released a picture of Ms James, in the same clothes she was wearing on the day she was killed.
Assistant Chief Constable Tom Richards said: "I do not know the motive of this attack, I do not know if it's somebody she knew, I do not know if it's a stranger attack. Of course that possibility is particularly frightening to local residents.
"I don't know, therefore, if it's someone who is regularly in the area,"
He said Ms James' dog had been tested for any possible DNA evidence by forensic officers.
"We've got a very considerable forensic strategy and it does include the dog."
Police have issued a map of the area and are keen to speak to anyone who was there between 13:00 BST and 16:30.
After releasing the new picture of Ms James, a Kent police spokesman said: "The image shows Julia walking her Jack Russell Toby while wearing a light blue waterproof coat, blue jeans and dark coloured Wellington-style brown boots.
"It is the same clothing, apart from the gloves, which she wore on Tuesday 27 April."
Mr Richards said: "We're hoping that this image of Julia wearing what she wore before her death will help jog people's memory.
"We want to hear from people who think they saw her walking Toby on that day and we also want to speak to people who were in the area that afternoon."
Officers are searching a number of locations in the area, Mr Richards said.
"We are trying to establish the route the offender approached the location where Julia was murdered and the route, if different, the offender left that location.
"This is a very remote location and people did not approach the scene in a conventional vehicle, most likely on foot.
"It's a popular dog walking area, but other vehicles - agricultural and off-road vehicles, bikes - would be capable of reaching that area, and we're considering every option."
Mr Richards said police were continuing "to conduct as many house-to-house inquiries as possible", adding: "Residents in the Aylesham and Snowdown area can expect a visit from officers to allow them to discuss any concerns they may have as well as provide any information which could assist the investigation."
He described the investigation as "hugely challenging" and said searches would continue for "a number of weeks".
Related Internet Links
The BBC is not responsible for the content of external sites.