PCSO Julia James: Candles lit a week on from her death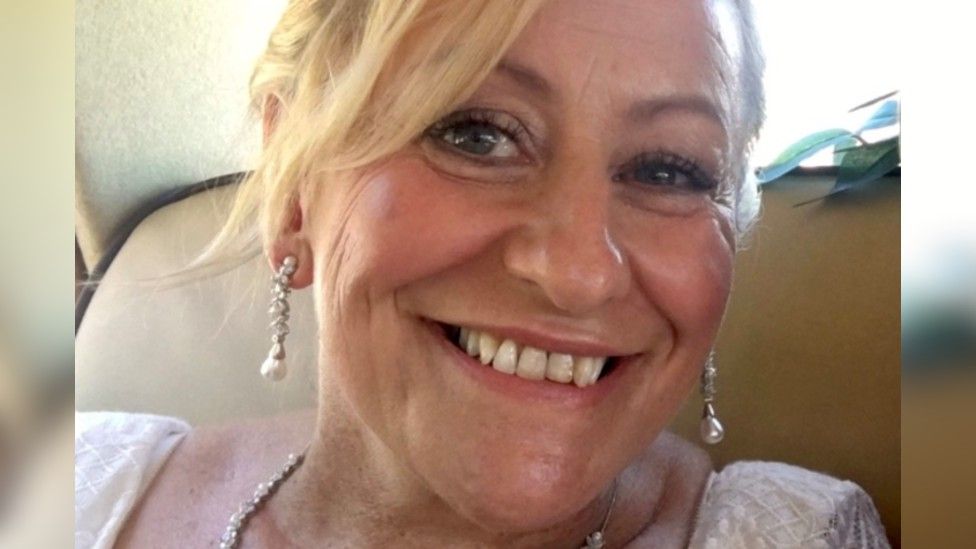 People have left lit candles on their doorsteps and posted tributes online in memory of murdered PCSO Julia James.
A week on from the discovery of the 53-year-old's body in woodland near Dover, Kent, police have no motive for her killing and have made no arrests.
In a Facebook post, Ms James' daughter Bethan Coles said she had been asked about a vigil and was "so grateful for people wanting to remember her".
Prime minister Boris Johnson posted a tweet in memory of Ms James.
Ms Coles said she wanted "all police resources to be concentrating on the investigation".
She said she was "very conscious that any gathering would need to be policed, if it was even allowed," adding: "I've discussed this with my family and we are in agreement that we would prefer all police resources to be concentrating on the investigation as there is so much work to be done."
Those wishing to remember Ms James were invited to light a candle for her and leave it on their doorstep at 19:00 BST.
A lit candle was left outside Ms James' family home in Snowdown, while others posted tributes on Twitter.
The prime minister's tweet said: "Tonight we remember PCSO Julia James. My thoughts are with her friends and family."
About 10 people gathered at Market Square in nearby Aylesham to light candles where flowers have been laid in the days following her death.
They were joined by Ms James' son Patrick who also visited the site.
Ms Coles previously said the vigil would act as "a beautiful nod to Mum in a way that doesn't intrude on the police investigation".
Vehicles in the area where Ms James' body was found were stopped by police on Tuesday, as officers looked to speak to people who had not yet come forward.
Meanwhile, the National Crime Agency has helped the investigation, giving advice on specialist forensic search techniques, Kent Police said.
Chief constable Alan Pughsley said Ms James' death had an "immense" impact on the force, adding: "We are in deep shock and trying to do all we can to find the offender.
"It's a bit raw when it's one of your own, but we will do everything we can, as we would with any murder."
Officers and staff held a minute's silence at 14:30 BST.
Ch Insp Dan Carter said people should "remain cautious, vigilant and aware of your surroundings when you are out and about".
The body of Ms James, who had left home to walk her dog, was found a few hundred yards from her house.
A post-mortem examination found she died from blunt force trauma.
On Sunday, Ms James's uncle Michael Turnbull appealed on social media for help to find her killer, whom he referred to as a "monster".
Ms James's family have described her as a "fiercely loyal" wife, mother, daughter and grandmother who loved people "with her whole heart".
Related Internet Links
The BBC is not responsible for the content of external sites.