Elmbridge: Chainsaw 'tree killer' hunted by police and residents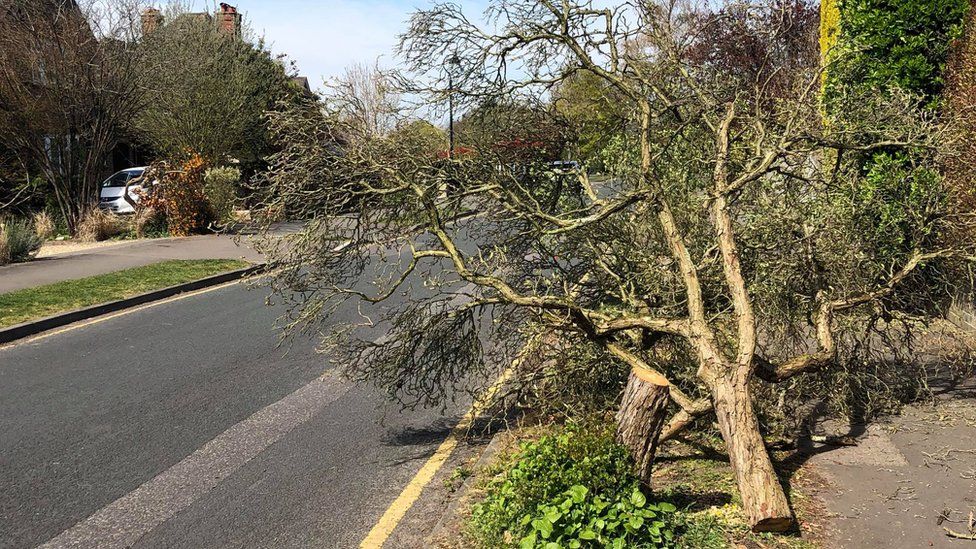 Residents and police are hunting for a "mysterious" night-time tree feller.
About 30 trees are believed to have been cut down with a chainsaw in Elmbridge, Surrey, in the past month.
Some residents have begun night-time patrols, while a Facebook group set up to identify the "maniac" responsible has more than 900 members.
Surrey Police - who dubbed the suspect the "tree fella" - said officers had been reviewing CCTV footage and data from number plate recognition cameras.
Cameron Flynn, who founded the Elmbridge Tree Patrol group on Facebook, said he believed the "tree killer" was "playing a massive game".
"He's trying to stir up everyone's emotions," the 21-year-old said.
"Why would you be going around cutting trees and not even collecting the wood. It just doesn't make sense."
While some members of the group had carried out night-time patrols, Mr Flynn said they planned only to document anything suspicious to help police.
"In my eyes, this guy is a 'psycho', he has something wrong in his mind, so approaching him could be one of the worst ideas," he said.
Two trees were reportedly cut down overnight on Monday, while eight others were felled on 17 April.
Most of the felled trees were along a stretch of the River Thames between Weybridge and Walton.
Insp Bert Dean said it was "incredibly sad that someone is destroying these trees," adding: "Not only are these a haven for wildlife but they bring much pleasure to our community."
In an earlier Facebook post, the Elmbridge police team said the "tree fella of Walton and Weybridge" was believed to have been travelling in a small red car.
Officers asked residents to "leave this matter with our force and local council".
Resident Liani Mannifield said people were "really upset," adding: "We simply don't understand why it's happening or, more importantly, at what point we're going to be able to stop it".
Mr Flynn said he believed the culprit "wants to be like a super-villain," adding: "He's mysterious. He just comes out overnight. No-one spots him and the next morning everyone wakes up and sees a tree has been cut down."
Related Internet Links
The BBC is not responsible for the content of external sites.