Napier Barracks: 'Hundreds' to move to ex-military asylum site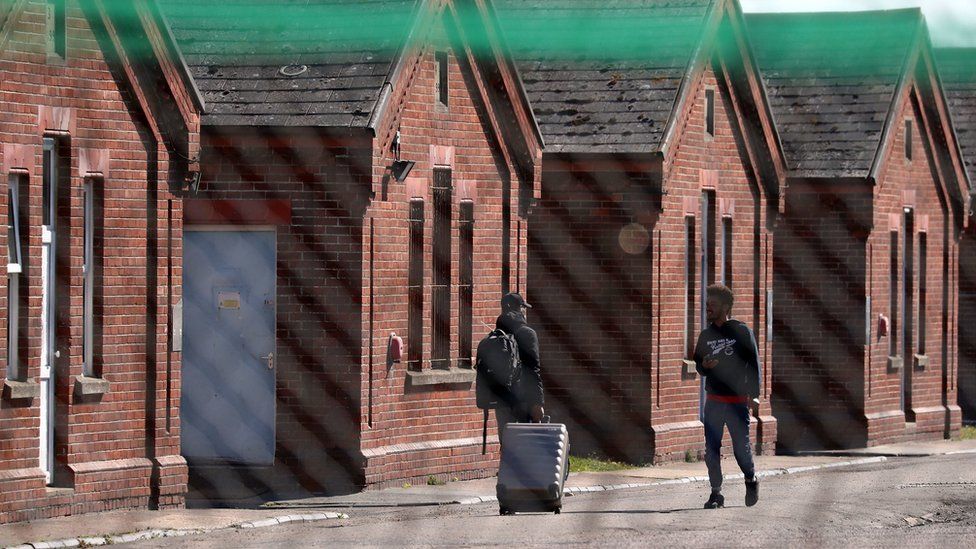 Hundreds more people are to be moved into the controversial Napier Barracks asylum centre in Kent, local organisations have been told.
Plans are in place to increase numbers at the site to 337 over coming weeks.
Earlier this year, residents moved off the site after a Covid outbreak saw 200 people infected. Campaigners have said the accommodation is still not safe.
The Home Office said people at the Folkestone camp were housed in safe, suitable, Covid-compliant conditions.
The projected figure of 337 was in an announcement seen by the Press Association, but the Home Office has not commented on how many people will be moved in.
Clare Moseley, from Care4Calais, said: "At the end of the day it's still dormitory accommodation - how can that be Covid safe?
"What are they going to do if there's another Covid outbreak? How is it going to be very different?"
She claimed the continued use of the barracks was "political", adding: "We need leadership that treats refugees with dignity and respect."
Meanwhile a Napier resident, who has not been named, confirmed 20 people are living in one room and said residents are worried about the Covid risk.
A Home Office spokesperson said: "Asylum seekers are staying in safe, suitable, Covid-compliant conditions, where they receive three nutritious meals a day.
"We have also made a significant number of improvements to the site following feedback from residents and inspectors."
The development followed further migrant crossings in the Channel on Monday, when seven boats crossed with 113 people on board.
The Home Office said French authorities prevented four crossings involving an estimated 72 people.
According to the department, more than 2,000 people have been prevented from making the crossing this year following work with France, and there have been more than 60 prosecutions relating to small boats since the start of 2020.
Related Internet Links
The BBC is not responsible for the content of external sites.