Covid-19: Outbreak 'shows Napier Barracks not Covid-safe'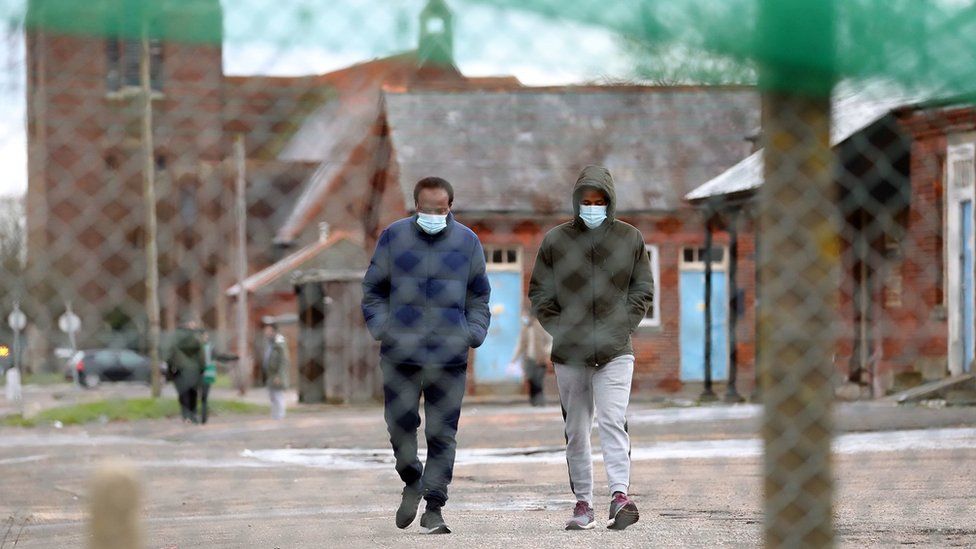 Nearly 200 asylum seekers housed at a former Army barracks have tested positive for Covid-19 this year, MPs have been told.
Napier Barracks in Folkestone, Kent, had housed up to 400 men, with a maximum of 28 sharing each dormitory.
Yvette Cooper MP said the number of cases was "pretty clear evidence" the site was "not Covid-safe".
Home Secretary Priti Patel said the Home Office had followed public health guidance "in every single way".
In January, 178 people tested positive, with another 19 in February, the Home Affairs Select Committee heard.
Responding to the figures, committee chair Ms Cooper said: "Oh my god, you had 178 cases at a centre which had dormitory accommodation of over 20 people.
"That's pretty clear evidence to me that those dormitories were not Covid-safe, if you managed to generate within them 178 Covid-positive cases."
She asked: "What planet did you think, in the middle of a Covid crisis, it was safe or sensible to put over 20 people in a dormitory so they were all sleeping together in the same room, the same air, overnight each night?"
Residents who had tested negative were moved to alternative accommodation and the maximum number of people per dormitory was reduced to ten following the outbreak, the committee heard.
The Home Office said it was "following the guidance at every stage and the guidance was to ensure that there was as much space as possible, certainly at least two metres between beds".
Ms Cooper said: "That obviously wasn't sufficient."
Asked if the Home Office had "seen the faces of those people who you put in that unsafe accommodation," the home secretary said: "Every single individual that comes into the care of the Home Office, they have personalised support and that happens at the initial stages of their own personal assessments."
She said that while the Home Office had sought to meet social distancing advice at Napier, "people were also not following the rules".
Ms Cooper said it was "astonishing" that Ms Patel was "effectively blaming those people for not following the rules, when they were put in accommodation where they had to sleep with 28 people to a room".
Related Internet Links
The BBC is not responsible for the content of external sites.