Migrants brought to UK as six boats intercepted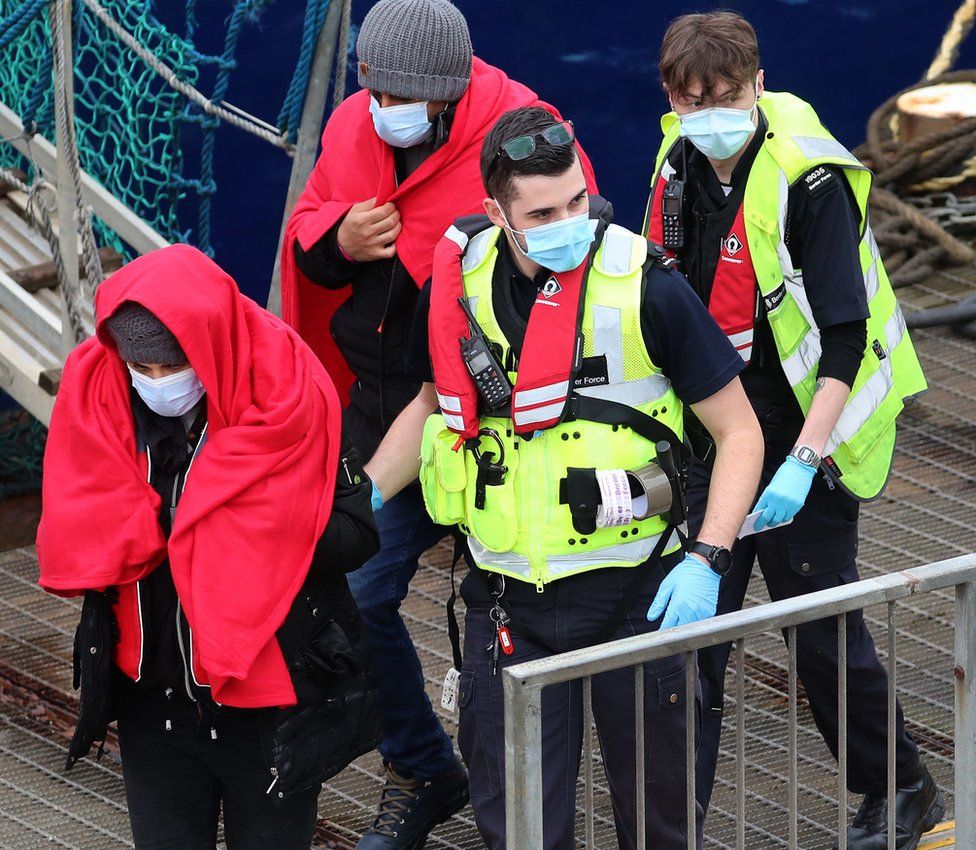 Eighty migrants in six boats have been intercepted by Border Force officials in the English Channel.
The Home Office has confirmed that Border Force dealt with a series of incidents on Monday.
Meanwhile, French authorities prevented about 50 people making the crossing on the same day, the government said.
People in blankets and life jackets were led ashore while officials were seen manoeuvring dinghies believed to have been used to make the crossing.
A boat thought to have been used in a beach landing was also picked up by officials along the coast and towed to Dover.
So far this year, more than 7,755 people have crossed the Channel in about 600 small boats. At least 1,892 made the crossing in 2019.
After Monday's events, minister for immigration compliance Chris Philp said the crossings were being facilitated by "callous criminals who are breaking our laws by smuggling people illegally across the Channel".
He said: "We are relentless in our pursuit of these dangerous offenders who are putting lives at risk. In the last two weeks alone five people-smugglers have been jailed, with more investigations under way and more arrests planned."
Rasoul Iran-Nejad, his wife Shiva Mohammad Panahi, both 35, died along with their children Anita, nine, and Armin, six, when their boat sank off France on 27 October.
Their 15-month-old son Artin remains missing and is presumed dead.
A total of 144 people on board 10 boats were dealt with on Sunday by the UK authorities.
That day, French authorities stopped two boats with 20 migrants on board before they could enter UK waters.
Related Internet Links
The BBC is not responsible for the content of external sites.