Charlie Elphicke trial: MP's pursuit of woman 'like a Benny Hill sketch'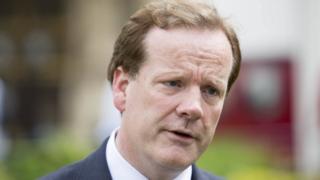 A former Tory MP chased a woman he is accused of sexually assaulting round his kitchen in what sounded like a "Benny Hill sketch", a court heard.
A woman told a jury about receiving a late night phone call from ex-Dover MP Charlie Elphicke's alleged victim, her "distressed" sister.
Mr Elphicke, 49, is accused of touching a woman's breast at his home in 2007 and attacking another woman in 2016.
At Southwark Crown Court, he denies three counts of sexual assault.
He is also alleged to have sexually assaulted a parliamentary worker nine years after the first attack at his London home, in the summer of 2007.
'He was knocking on door'
Giving evidence, the woman's sister said she was told "he chased me around the kitchen". And when she clarified who "he" was, his alleged victim said "Charlie".
"My advice was for her to get out of there. He was knocking on the door at the time and she was obviously distressed," she told the court via video link.
"At that time all I knew was that he'd chased her round the kitchen, tried to grab her bottom, wanted to spank her bottom.
"My priority was to get her out of there and get her safe."
Her sister left the property and got into a taxi to her boyfriend's house before the women spoke again.
Asked by prosecutor Eloise Marshall QC what her impression had been after that first call she said: "It seemed like something from Benny Hill - that's an old TV series... utterly bizarre."
'Naughty Tory list'
The witness said her sister did not originally wanted to make a formal complaint, and had wanted to forget all about it.
On Tuesday Ian Winter QC, for the defence, accused the alleged victim of inconsistencies in her evidence to friends at the time.
He said the phrase "naughty Tory" had "crept" into her account after reading press reports a decade later of a so-called "naughty Tory list". She rejected this idea.
She also denied Mr Winter's suggestion that Mr Elphicke "immediately stopped" kissing her when she said so, and that the incident ended there.
Jurors also heard an extract of a police interview with his second alleged victim, a young parliamentary worker.
The married father-of-two is alleged to have said "I'm so naughty sometimes", as he shared a bottle of champagne with the woman, aged in her early 20s, in Westminster in 2016.
The woman said she was invited for a drink with Mr Elphicke one evening, and they chatted about music before he later slipped his hand under her top.
In the recording, the woman, who cannot be identified for legal reasons, said Mr Elphicke repeatedly told her he liked her.
She said Mr Elphicke then put his arm down her top to grope her.
'He giggled after assault'
She told police: "He said, 'What's wrong? We both really like each other'."
The woman said she was not attracted to him and told Mr Elphicke he was much older than her, to which he allegedly replied: "I knew you'd bring my age into it."
She said Mr Elphicke began giggling after the sexual assault and said: "I'm so naughty sometimes."
She also told police of a second alleged assault, later in 2016, when Mr Elphicke slid his hand up her leg to her groin.
The woman said she told him to stop, to which Mr Elphicke tutted and replied: "You're no fun."
She told police she had heard Mr Elphicke say previously: "People in my good books go a long way. People in my bad books don't."
The trial continues.