Coronavirus: Nurse Aimee O'Rourke dies after Covid-19 diagnosis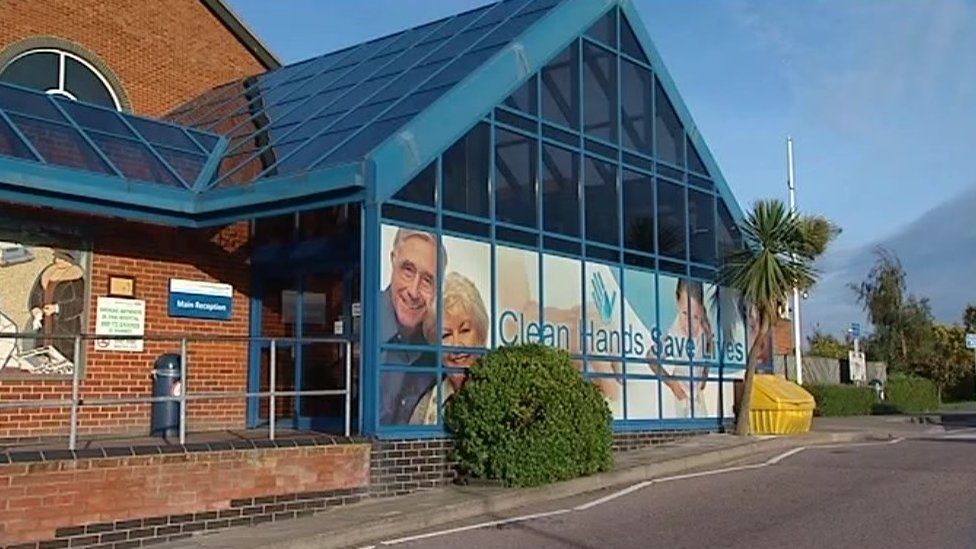 A "highly talented" nurse has died at the hospital where she worked after testing positive for Covid-19.
Aimee O'Rourke, 39, worked at the Queen Elizabeth the Queen Mother (QEQM) Hospital in Margate, Kent.
"Heartbroken" colleagues and relatives have paid tribute to the mother-of-three, who died on Thursday night.
On Facebook, daughter Megan Murphy wrote: "You are an angel and you will wear your NHS crown forever."
Ms Murphy said her mother had been fighting for her life as the second "Clap for Carers" - a nationwide celebration of NHS staff and key workers - went ahead.
She had urged people to shout her mother's name as the family hoped for signs of improvement.
East Kent Hospitals NHS Trust said Ms O'Rourke died in the QEQM's critical care unit late on Thursday after testing positive for Covid-19.
She had joined the acute medical unit as a newly-qualified nurse in 2017.
Ward manager Julie Gammon, who sat with Ms O'Rourke when she was admitted, said: "It was an honour to be able to be with her and to provide some comfort."
Amanda Hallums, chief nurse at the trust, said everyone who had worked with her was heartbroken.
"We are a work family and it is devastating to lose one of our own," she said.
"We will forever remember her smile."
Patricia Marquis, Royal College of Nursing South East regional director, said Ms O'Rourke had been described as a "fabulous nurse with the biggest of hearts".
Areema Nasreen, 36, had spent weeks in intensive care at Walsall Manor Hospital, where she worked in the acute medical unit.
During the government's daily coronavirus briefing, the Chief Nursing Officer for England Ruth May paid tribute to both women.
She said both Ms O'Rourke and Ms Nasreen were registered nurses working to protect the public, adding: "They were one of us."
Ms May revealed she was also concerned more nurses would die, as she said: "They were one of my profession, of the NHS family. I worry that there's going to be more and I want to honour them today and recognise their service."
In a further call to people to stay at home this weekend, Ms May pleaded with them to remember the two women: "It is very tempting to go out and enjoy those summer rays but please I ask you to remember Aimee and Areema. Please stay at home for them."
Ms O'Rourke leaves behind three daughters, Megan, Mollie and Maddie.
Related Internet Links
The BBC is not responsible for the content of external sites.