Channel migrants: 79 people arrive in five boats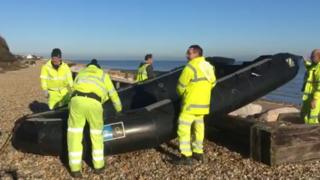 Seventy-nine migrants have crossed the Channel in five small boats.
Three boats, carrying 48 people, were met by Border Force officials off Kent, while 11 people were rescued from a fourth vessel by the RNLI.
A fifth dinghy was found abandoned on the beach in Kingsdown and 20 people were detained by police and Home Office officials.
It is believed to be the second-highest number to cross the Channel in a single day, with 86 arriving on 10 September.
More than 1,700 migrants have crossed the Channel in small boats this year.