Lucas Dobson: River Stour search for missing boy enters fourth day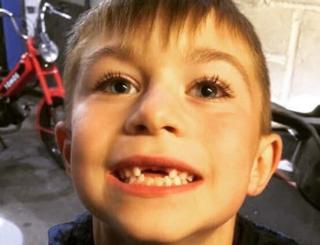 The search for a six-year-old boy, missing after he fell into a river, has entered its fourth day.
Lucas Dobson slipped into the River Stour between a boat and jetty while fishing in Sandwich, Kent, on Saturday.
Hundreds of volunteers joined emergency crews and divers over the past few days, but police have now asked that the public stay away from the river.
Peter Faulding, of the Specialist Group International dive team, said they were "working incredibly hard" to find him.
Mr Faulding said the search had been a "real community effort" and thanked people for their help.
However, Kent Police has advised members of the public to stay away from the river, so experts have the space to work.
Ch Insp Mark Weller said: "The focus now is within the river area, which is obviously a very dangerous environment, hence our request to the public to stay away for the time being, to allow those experts who have the relevant kit, experience and training to conduct those searches."
Asked if the focus on the river meant "there was no more hope", Ch Insp Weller said: "I think we've all got hope and I think you can see that from the community response to this.
"I think the sad reality of incidents such as this [is that they] sometimes don't turn out well."
He thanked public for their support, adding: "The efforts and compassion of volunteers has been heart-warming and their value and help cannot be overstated.
"However, we are now at a stage where the river is our sole focus."
Mr Faulding said the river search was proving to be "very difficult" due to the incoming and outgoing tides.
"There is a very fast water flow. My divers are on safety lines and still get washed along," he said.
"There are a lot of obstructions on the bottom of the river too and lots of dense reeds. There is zero vision."
The team is using high-frequency sonar to scan the riverbed and create images.
Supt Amanda Tillotson said as time went on it became increasingly unlikely Lucas would be found alive.
Hope vigils were held on Monday evening across Kent, with people lighting candles in an attempt to "light up the coast for Lucas".
Twitter users shared images under the hashtag #LightUpTheCoastForLucas.
Lucas's aunt, Maciee Stanford, shared a post on Facebook showing pictures of her and Lucas plus candles lit in support of the family.
"Our community is strong and has helped us as much as they can through this hard time... I cannot begin to express how grateful we are," she wrote.