Lucas Dobson: River Stour search continues for missing boy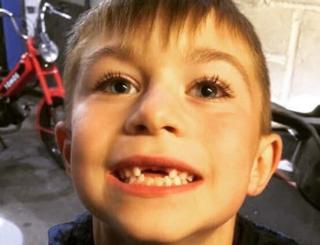 Hundreds of volunteers from "far and wide" are continuing to search for a six-year-old boy who fell into a river while fishing with his family.
Lucas Dobson has been missing since Saturday when he slipped into the River Stour in Sandwich, Kent.
Kent Police, fire crews, the Coastguard and divers have been scouring the river and surrounding areas.
Supt Amanda Tillotson said as time went on it became increasingly unlikely the boy would be found alive.
"It is really sad for the family, my heart goes out to them. It is an awful, tragic incident," she added.
Hundreds of people joined a series of hope vigils across Kent on Monday evening, lighting candles in an attempt to "light up the coast for Lucas".
Many of those attending wore red, which is said to be Lucas' favourite colour.
Gatherings were planned for Sandwich, Ramsgate, Deal, Folkestone, Margate and Canterbury.
Volunteer search teams have been told a "working theory" was that Lucas may have "self-saved, found himself in the middle of a field, lost and disorientated".
But Supt Tillotson said it was a "best case scenario" and "as the time goes on, it becomes more unlikely".
Lucas went into the river at about 13:30 BST on Saturday. His father jumped in to save him but was unable to catch his son.
Supt Tillotson said: "The river the flow is very, very quick. It is so sad."
She added: "There has been an overwhelming response to the incident, with people coming to help from far and wide - including outside of our county.
"For this, we are extremely grateful and we continue to use all resources available to us."
Rescue teams in canoes have searched the riverbanks, while police officers have also used sonar equipment.
Lucas's aunt, Maciee Stanford, thanked people for their support and said Lucas had slipped and fallen between a jetty and a boat while out fishing with his family.
Three adults - including his father - jumped into the river to try to save him, but the child was swept away by the strong current, according to Ms Stanford.
"It's so overwhelming to see our community come together and help us - we could not thank you all enough for everything," she said.