Dover: Ferry passengers stuck at sea due to high winds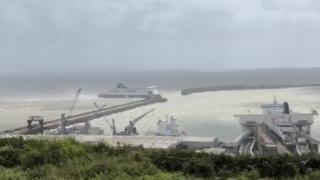 Passengers were stuck on cross-Channel ferries off the Dover coast as the port operated a "one ship in, one ship out" policy due to high winds.
Crossings between Dover and Calais were delayed by up to six hours, with tugs deployed to guide ships into port, P&O Ferries said.
A man was also severely hurt when a tree fell on him in London.
And train passengers across the UK faced disruption caused by the winds and flooding.
P&O has said it will accommodate passengers on the "first available sailing once you reach check-in" and the wait time was a maximum of six hours.
One ferry passenger, Justin Hodge, 41, who was trying to get back to Sittingbourne in Kent with his partner and three children, said he had been waiting at Calais for six hours with "no ferry in port".
The family had been due to catch the boat from the French port at 15:15 BST to Dover.
Hundreds of cars
"The time now is 21:00 and still sitting in the docks nearly six hours later and no sign of boarding," he said.
He added they had "not moved" since passing border control.
"We're sat in a queue with hundreds of cars," he said.
"I'm one of the lucky ones, I'm towing a caravan so I've got milk, water and somewhere to sleep but there are others who are not so lucky."
Stephen Deadman, from Nottingham, earlier reported waiting for three and a half hours alongside five other ferries after stopping four miles off the coast at Dover.
"The wind was very bad and the captains of the ferry and tug boats did a great job in difficult conditions," he said.
In Scotland, passengers on five trains were trapped for a time after heavy rain caused the temporary closure of the West Coast mainline.
Network Rail said water levels had risen a foot above the track between Penrith North Lakes and Lockerbie.
Services were also suspended between Lewes and Haywards Heath due to a fallen tree blocking the line, Southern said.
Speed restrictions were also imposed, particularly in coastal areas, where wind speeds were forecast to hit 60mph.
Network Rail urged passengers to check for updates before they travel.
Earlier, trains to London from Kent were suspended for about two hours while a tree was removed from the line in Newington.
And high winds toppled trees in London and Norwich, severely injuring one man and blocking a number of roads.
The man, thought to be in his 50s, suffered potentially life-threatening injuries when a tree fell in Greyhound Lane, Streatham Vale, at about 13:00, a Met Police spokesperson said.
A spokesperson for Scottish and Southern Electricity Networks (SSEN) said about 1,000 customers had been without electricity across its network.
"These are mainly small, localised faults and we are working to restore customers throughout the course of this evening.
"We'd like to apologise for the interruption to their supply and thank them for their patience as we work to restore them as quickly and as safely as possible," the spokesperson added.
Tents wrecked
The adverse weather conditions have also led to scores of events being cancelled.
At the Boomtown Fair in Winchester, dozens of tents were wrecked overnight after strong winds tore through the festival's campsites.
While in Ascot, damage to the stage for a concert at the racecourse due to be held later featuring Jessie J and Tinie Tempah led to it being cancelled.
Organisers of Bristol's hot-air balloon festival were also forced to temporarily close the site.
In a statement on the event's Facebook page, organisers said they hoped to reopen the event for the final day on Sunday.
Events at the Blackpool Air Show on Saturday were also cancelled due to strong winds and heavy rain, but plans for Sunday are expected to go ahead from 13:30.
A yellow weather warning is in place covering southern and central England as far north as Blackpool, Huddersfield and Grimsby, the Met Office said.
Chief meteorologist Neil Armstrong said summer storms were more likely to cause disruption because "more people are likely to be outdoors, especially by the coast".
"Additionally, with trees in full leaf they are more vulnerable to being brought down by strong winds," he added.
Follow BBC South East on Facebook, on Twitter, and on Instagram