Election results: Conservatives lose two councils in Kent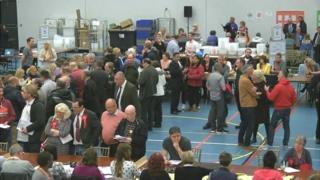 The Conservatives have suffered heavy losses around Kent in Thursday's local elections.
They lost control of Folkestone and Hythe after 15 years - although they aim to cling to power there - and also Swale, where they lost 16 councillors.
Labour's solitary victory was in Gravesham, where they exploited last year's split among the Tories to take overall control of the authority.
Three Tory council leaders were also ousted on a tough night for the party.
The Conservatives remain in power in much of Kent, but suffered defeats.
They initially lost nine seats in Folkestone and Hythe to surrender their hold on the council, formerly known as Shepway.
Council leader David Monk had predicted a "wipe-out" but was relieved to see the Tories remain the largest party on the council, ahead of a resurgent Labour and Green Party.
And with the Conservatives still the largest party, with 13 of the 30 seats on the council, Mr Monk said he was confident of forming a minority administration, although he admitted: "The mood is very angry out there."
In Swale, where the Tories had a 17-seat majority going into polling day, the party lost 16, leaving them eight short of overall control.
Biggest beneficiaries were Swale Independents, who gained 10 seats to take their tally to 12 - one more than Labour.
With Brexit uncertainty hitting both the main parties, Labour failed to make the gains in Kent they would have hoped for, while UKIP was wiped out in its once-stronghold of Thanet.
Labour's sole success was in Gravesham, where they seized control of the council with a four-seat majority, following a period in which the authority had been left with no party in overall power in the wake of mass Tory desertions.
Analysis
By BBC Radio Kent political reporter Caroline Williams
From the start there was nervousness at Gravesham. The last time these seats were contested, the Conservatives took the majority, but splits in the party and bad feeling had conspired to cost them their power base.
Going into the election, Labour was the largest party but there was no overall control. Three seats were all that Labour needed, but judging by their faces in the morning, it wasn't at all clear that those would go their way.
Up until almost the very end, candidates would only whisper their hope, their belief, that this was to be their day.
Once they got to 21 seats there was no hiding their delight. It was clear Labour was taking Gravesham.
The council flip-flops between Conservatives and Labour and has done for many years.
But on this occasion, leader of the Labour group, John Burden, while praising his own team's hard work, said Labour owed a debt of thanks to Theresa May.
From the leader of the Conservatives there was bitter disappointment and a sense that the local party had been let down by the Conservatives nationally.
While Brexit was never far away, in truth, in Gravesham it did feel as if local issues and local difficulties had played at least as big a part.
Among Swale Tories' casualties was council leader Andrew Bowles. And while Conservatives retained power in both Canterbury and Tunbridge Wells, they, too, lost their leaders - Simon Cook and John Jukes.
The Tories increased their majority on Dover District Council - from three to six seats - although as a result of boundary changes, their net gain on the night was just one. An independent also picked up a seat, while Labour and UKIP each lost one.
But in Thanet, where UKIP had once dominated the council with 33 representatives, it lost all its remaining seats.
Dartford Borough Council retained a Tory majority, but lost three seats to Labour.
Medway Council also remains a Tory stronghold, with 33 seats out of 55.
UKIP lost all four of its seats and Labour gained five to take its total to 20.
Two independent candidates were also elected.
The Conservatives held Tunbridge Wells, but council leader Mr Jukes was beaten in his Speldhurst and Bidborough seat by Lucinda Willis, of the Tunbridge Wells Alliance.
Tory colleague Matthew Bailey enjoyed a nail-biting victory in the Paddock Wood West seat, edging past Labour's Raymond Moon when lots were drawn after the pair were tied on 289 votes apiece.
The Tunbridge Wells Alliance took five seats - the same as the Lib Dems - as the Conservatives' hold on the council weakened.
The Lib Dems also won five seats in the Tory stronghold of Tonbridge and Malling, where the Conservatives still have a substantial majority.
There was little change in Maidstone, where the Conservatives remain the largest party, but with no overall control, after losing one seat to Labour.
Either search using your postcode or council name or click around the map to show local results.