Migrant boat located in English Channel off Kent coast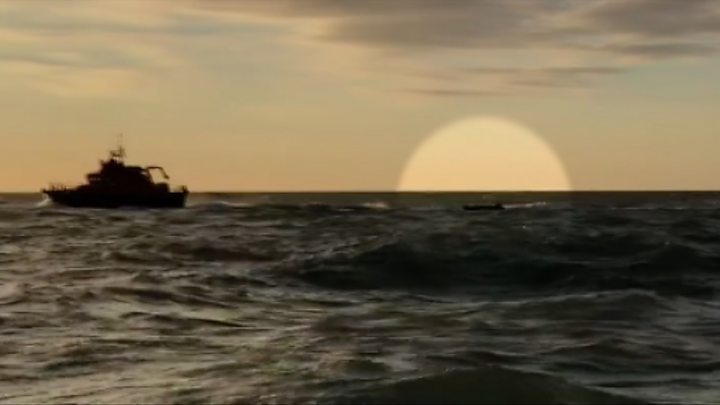 A small boat in the English Channel, carrying six male migrants, was found in the sea near Dover.
The migrants, who claimed to be Iranian, made a call to police at 06:20 GMT, but were unclear of their precise position and a search was launched.
Fourteen other migrants were rescued from two dinghies in the Channel off the Kent coast and brought ashore at Dover on Tuesday.
More than 120 migrants have crossed the Channel to the UK since 3 November.
A spokesman for Kent Police said: "We received a call regarding suspected migrants in a boat of the coast of Dover at 6.21am."
The force referred it to the coastguard, which co-ordinated the search, and South East Coast Ambulance Service also attended.
All six migrants were treated at the scene, when an ambulance attended Lord Warden Square, Dover, and a spokesman added: "The majority were uninjured, although all were cold; one was particularly cold. We were able to discharge them from their care at the scene and leave them in the hands of the Border Force."
A Home Office spokesperson said: "Two Border Force coastal patrol vessels were deployed to assist a RHIB off the coast of Dover with six men on board.
"The men, who all presented themselves as Iranian nationals, have been brought to shore and have now been transferred to immigration officials for interview.
"The Home Office will progress their cases in accordance with the immigration rules."
A spokeswoman for HM Coastguard confirmed it had assisted Border Force in dealing with the migrants.
She added: "We are only concerned with preservation of life, rescuing those in trouble and bringing them safely back to shore, where they will be handed over to the relevant partner emergency services or authorities."
The people found off the Kent coast since November:
12 December - Six men were rescued off Dover after one of them called police saying they did not know where they were.
11 December - Six people, thought to be from Iran were rescued from a small boat off the Kent coast. A second boat with eight men, all saying they were Iranian were picked up later the same day off Dover.
4 December - Two suspected migrants who said they were Iranian were picked up in an inflatable boat near St Margaret's Bay.
27 November - An 18-month-old baby was among nine people rescued from a dinghy off Dover.
26 November - Nine people including a child, reported to be 18-months-old, were picked up from a 3m-long boat off Dover.
25 November - Eight people, all suffering from hypothermia, were rescued by the French authorities from a small boat in the Channel.
24 November - Five suspected migrants were picked up from a small boat by the French authorities off northern France.
23 November - Eight men were located in a dinghy off the coast of Dover.
22 November - Thirteen men and one woman were intercepted in two dinghies off the coast of Dover.
18 November - Nine suspected migrants were found clambering up rocks in Folkestone after apparently crossing the English Channel in a small boat.
16 November - Seven suspected migrants were found off Samphire Hoe, near Dover.
14 November - Nine suspected migrants - seven men, one woman and a toddler - were found off the Kent coast. Another 10 were found near Dover Docks and five men were found several miles of Ramsgate.
13 November - Fourteen men and three children entered Port of Dover on a French fishing boat believed to be stolen.
9 November -Seven men were found in the English Channel off Dover.
3 November - Eight suspected migrants were stopped off the Kent coast and seven others were stopped at Dover Western Docks.