Fourteen migrants rescued from Dover shipping lane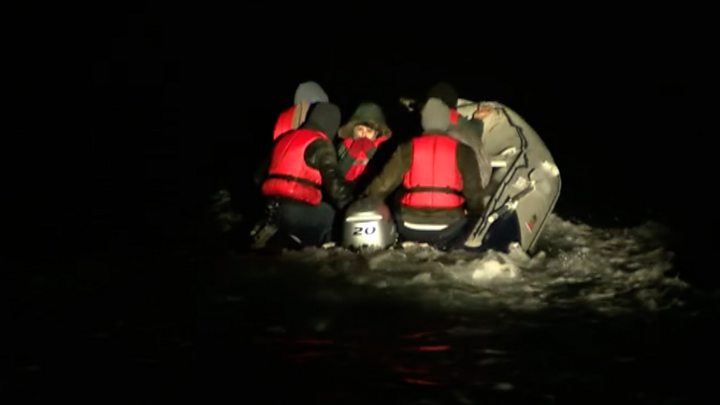 Fourteen migrants have been rescued from two dinghies in the Channel and brought ashore at Dover.
Coastguards and a lifeboat crew were called at about 03:30 GMT to a small boat, in the Dover Strait - the world's busiest shipping lane.
The Home Office said the boat contained five men and one woman, who claimed to be Iranian nationals.
A second boat with eight men, all saying they were Iranian, was intercepted at about 12:00.
More than 100 migrants, the majority of whom say they are Iranian, crossed the Channel towards Kent in November.
Warnings have gone out from the UK authorities about the dangers of taking small boats on the Dover-Calais route.
A Home Office spokesman said the coastguard contacted the Border Force in the early hours. A cutter and a lifeboat were sent to assist a dinghy with six people on board.
They were brought back to Dover onboard the cutter.
"They received a medical assessment and have now been transferred to immigration officials for interview," he added.
At about midday the coastguard reported a second boat off the coast of Dover with eight men on board.
A Border Force cutter and coastal patrol vessel were sent to help a rigid-hulled inflatable boat (RHIB), The Home Office said.
"The men, who all presented themselves as Iranian nationals, have been brought to shore", the spokesman said.
The have been passed to the immigration service, he said.
Ingrid Parrot
French border official
Our greatest fear is, on the one hand, a collision that leads to a loss of human life and, what's more, an accident at sea that we need to assist with.
On the other hand, our other fear is having injured people at sea and bodies on the beaches. We do not want it to come to that.
The BBC has confirmed that at least 126 migrants have entered British waters since 3 November, with the majority presenting themselves as Iranian.
Miodrag Ćakić, chief executive of Refugee Aid Serbia, which monitors migration through the Balkans, said Iranians heading for the UK had entered the EU via Serbia.
He said they were among the thousands who flew into Serbia after the country began offering visa-free access to Iranians in August 2017 in a bid to increase tourism between the two countries.
A spokeswoman for the Kent Refugee Action Network said the number of Iranians trying to enter the UK was unusually high.
"We haven't had this increase for some time. Iranians have always previously come in small numbers," she said.
The people found off the Kent coast since November:
11 December - Six people, thought to be from Iran were rescued from a small boat off the Kent coast. A second boat with eight men, all saying they were Iranian were picked up later the same day off Dover.
4 December - Two suspected migrants who said they were Iranian were picked up in an inflatable boat near St Margaret's Bay.
27 November - An 18-month-old baby was among nine people rescued from a dinghy off Dover.
26 November - Nine people including a child, reported to be 18-months-old are picked up from a 3m-long boat off Dover.
25 November - Eight people, all suffering from hypothermia, are rescued by the French authorities from a small boat in the Channel
24 November - Five suspected migrants are picked up from a small boat by the French authorities off northern France
23 November - Eight men located in a dinghy off the coast of Dover
22 November - Thirteen men and one woman were intercepted in two dinghies off the coast of Dover
18 November - Nine suspected migrants were found clambering up rocks in Folkestone after apparently crossing the English Channel in a small boat
16 November - Seven suspected migrants were found off Samphire Hoe, near Dover
14 November - Nine suspected migrants - seven men, one woman and a toddler - were found off the Kent coast. Another 10 were found near Dover Docks and five men were found several miles of Ramsgate
13 November - Fourteen men and three children entered Port of Dover on a French fishing boat believed to be stolen
9 November -Seven men were found in the English Channel off Dover
3 November - Eight suspected migrants were stopped off the Kent coast and seven others were stopped at Dover Western Docks