Two 'migrants' found in inflatable boat in Channel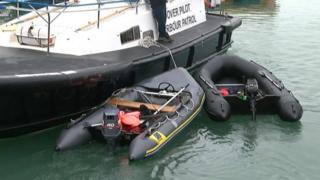 Two suspected migrants have been brought ashore at Dover after coastal patrols intercepted an inflatable boat in the Channel.
The vessel was spotted off the Kent coast near St Margaret's Bay.
Both said they were Iranian nationals and were passed to immigration officials, the Home Office said.
More than 100 migrants, the majority of whom claimed to be Iranian, crossed the Channel from northern France in November.
Warnings have gone out from UK authorities about the dangers of taking small boats on the Dover-Calais route - the world's busiest shipping lane.