Suspected migrants found on rocks at Folkestone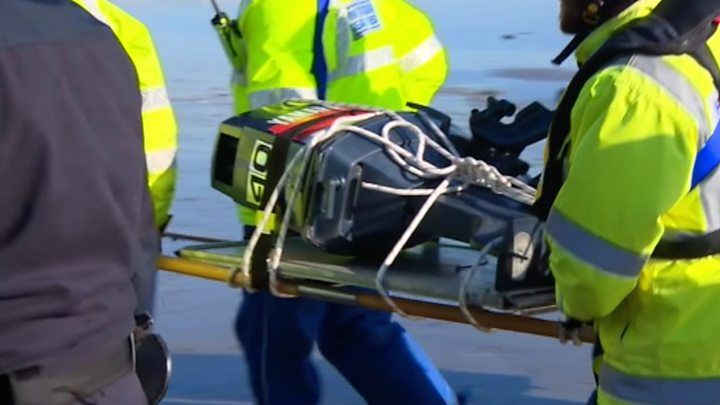 Nine suspected migrants have been found clambering up rocks after apparently crossing the Channel in a small boat.
The group, believed to be from Iran, called police to say they were in trouble at 07:30 GMT.
They were also spotted by a member of the public on the rocks at Copt Point, off Folkestone, 45 minutes later.
The Home Office said they were taken to Dover and would be "processed in line with immigration rules". A criminal investigation is under way.
More than 60 suspected migrants have entered the UK via Kent this week.
On Friday, a dinghy carrying seven suspected migrants was found on the beach at Samphire Hoe, near Dover.
Two days earlier three boats with a total of 22 suspected migrants on board, including one woman and a toddler, were picked up off the coasts of Dover and Ramsgate.
On Tuesday, a French fishing boat thought to have been stolen was stopped as it entered the Port of Dover with 17 suspected migrants on board.
In a separate incident, seven suspected migrants were also found in a lorry at Dover docks.
The Home Office said they would all be interviewed by immigration officials.
The Border Force has stepped up its patrols along England's south-east coast. Ashford MP and former immigration minister Damian Green said the solution lay in breaking up the gangs orchestrating attempts to cross the Channel.
"Desperate people clinging to rocks in Folkestone are desperate, and they are vulnerable to international criminal gangs who will tell them anything to take their money off them," he added.