Suspected migrants found in dinghy on beach near Dover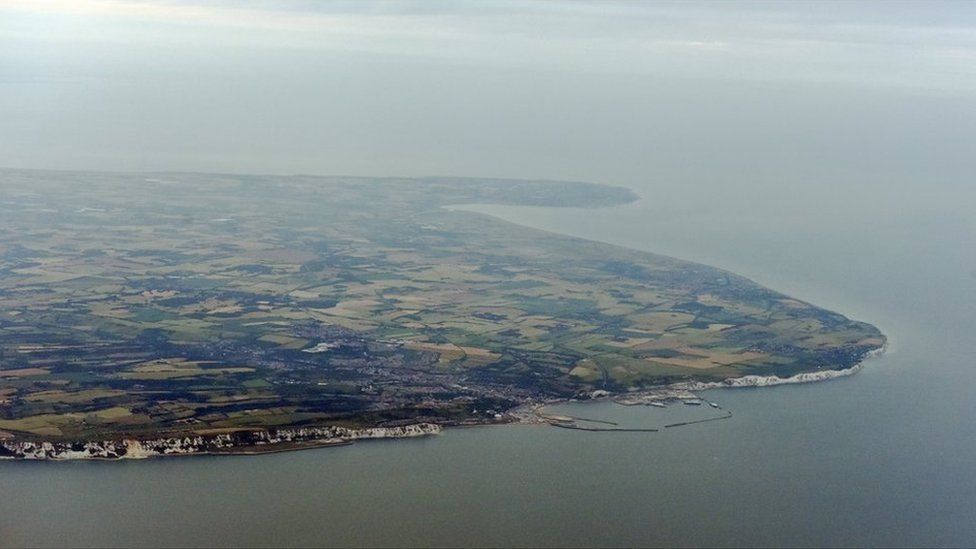 A dinghy carrying seven suspected migrants believed to be from Iran has been found on a beach in Kent.
The coastguard was alerted to the vessel at Samphire Hoe near Dover at about midday.
Up to 70 suspected migrants, mostly claiming to be Iranian, have been found crossing the English Channel on eight boats in the last 11 days.
The National Crime Agency (NCA) said it believed it was due to "organised crime groups" involved in people smuggling.
Chris Hogben, head of operations for organised immigration crime, said: "We don't believe that necessarily this is just the work of desperate migrants who are trying to get over to the UK under their own steam.
"We believe this is yet another example of organised criminals using more and more desperate, more and more dangerous, methods of trying to smuggle people into the UK."
A spokesperson for the Home Office said the seven people found at Samphire Hoe would be interviewed by immigration officials.
The Border Force has stepped up its patrols along the south east coast in the wake of the recent attempts by migrants to cross the Channel.
A Home Office spokesperson said it was "alert to the risk posed" by people attempting to reach the UK illegally via small boats.
"We continue to work closely with law enforcement partners in the UK and overseas to tackle people smuggling at source.
"Nobody should put their life at risk attempting to smuggle themselves into the UK across the Channel," a statement said.
On Wednesday three boats with suspected migrants on board were picked up by the coastguard off the Kent coast.
Related Internet Links
The BBC is not responsible for the content of external sites.