Benny the beluga: Fireworks display on hold for whale's safety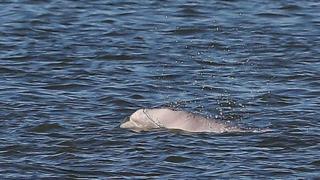 A fireworks display is to be postponed so as not to disturb a beluga whale that has become known as 'Benny'.
The whale was first spotted in the River Thames off Gravesend, in Kent, on 25 September, with a number of sightings since, including this week.
The fireworks were due to be set off from a barge in the Thames at the Riverside Leisure Area on 2 November.
Gravesham Borough Council said "the need to keep Benny safe while he visits us in Gravesend must take priority".
So far, the whale has remained in the Kent stretch of the river where he is feeding near barges.
Council leader David Turner said the decision had been taken following advice from the Port of London Authority.
"Every effort will be made to reschedule this hugely popular event, but a decision cannot be made now as no-one knows how long Benny will remain in residence here.
"While we understand this is also disappointing to the thousands of residents and visitors who enjoy our fantastic fireworks display every year, we have to ensure our special visitor is kept safe and well," he said.
About 15,000 people had been expected to attend the event.
The council has also urged residents and businesses to think twice about holding private firework displays near the river in Gravesend.
Martin Garside, from the Port of London Authority, said he welcomed the council's decision.
"They've made a good call," he said.
Beluga whales can grow up to 20ft in length and are usually at home in the icy waters around Greenland, Svalbard or the Barents Sea.
Mr Garside added: "This species of whale has never been seen this far south... I really would like it to swim home today."
Earlier this month, the British Divers Marine Life Rescue (BDMLR) dropped a hydrophone in the water to try to track the whale.
Operations manager Stephen Marsh said netting Benny to set it free was too high risk and not an option, and experts could only observe and protect.