Tunbridge Wells man died after misdiagnosis of sepsis symptoms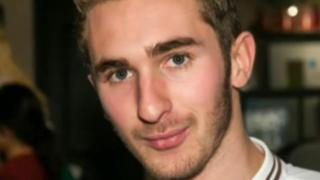 Failures led to the death of a student who died hours after doctors failed to spot he had sepsis, a coroner has said.
Tim Mason, 21, told Tunbridge Wells Hospital that he had flu-like symptoms and "felt like he was dying".
The inquest was told he was discharged without further treatment, but was rushed back to the A&E department later that day and died despite treatment.
Delivering a narrative inquest verdict, Roger Hatch said "had he been correctly diagnosed... he would not have died".
Maidstone and Tunbridge Wells NHS Trust has accepted liability and admitted breaching a duty of care.
Speaking on behalf of Mr Mason's family, Enable Law clinical negligence partner Paul Sankey said: "For Tim's family nothing can make up for his loss, but the acknowledgement of responsibility will go a small way to helping them move on.
"We should now be able to resolve a legal claim on behalf of the family."
Speaking after the inquest had ended at the Archbishop's Palace in Maidstone, Mr Mason's mother, Fiona, said the events surrounding his death could be learnt from.
She also said that "if changes are made that result in lives being saved, then that will be of some small comfort".
The inquest heard how hospital staff missed "several" chances to test the Sussex Downs College student for sepsis, despite him displaying signs of the deadly infection, during the "extremely busy" day on 16 March.
Mr Mason, from Tunbridge Wells, had also developed the rare and life-threatening W strain of meningitis.
He died after his organs began to fail and he had a cardiac arrest while in an induced coma after first feeling unwell eight days earlier.
Mr Hatch said said that given the results of his blood test, temperature and heart rate, Mr Mason should have received a sepsis screening and been reviewed by a senior doctor.
The coroner said: "Had he been correctly diagnosed it is most likely he would have been prescribed intravenous antibiotics and he would not have died."
The initial failures to correctly diagnose and treat Mr Mason did not amount to neglect, the coroner said.
Mr Hatch and Mr Mason's family accept that he was appropriately treated when he returned to the hospital's A&E department seven hours later.
After the hearing Dr Peter Maskell, the trust's medical director, apologised to the student's family and friends for not doing everything it clinically could have to help diagnose the sepsis sooner.
"While no words can adequately address their loss, we will ensure that lessons are learnt by our doctors and nurses," Dr Maskell said.
He said the hospital had carried out a full review and had taken a number of steps to address areas that "fell short of the high standards we want for all of our patients".