Amputee baby's father Tony Smith loses appeal bid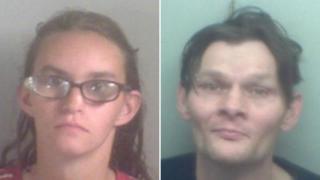 A man who injured his six-week-old baby so badly his legs had to be amputated has lost a bid to have his 10-year jail term reduced.
Tony Smith, 46, was convicted in February of causing or allowing harm to his son, also called Tony.
His legal representatives confirmed the application had been refused but have not commented further.
After the application was dismissed, the child's adoptive mother Paula Hudgell tweeted: "Time to celebrate."
Mrs Hudgell and her husband Mark had said they were shocked to learn Smith, of Whitstable, Kent, had launched an appeal.
"Obviously he feels that his sentence is too long. Our Tony has to suffer every single day," Mrs Hudgell said.
The couple have begun a petition to campaign for tougher sentences for child cruelty and neglect.
Earlier this year, the boy's biological mother Jody Simpson, 24, who was also convicted on the same charge, began action to have her 10-year term reduced but it is understood she withdrew the bid.