Chatham dog attack: Owners jailed after toddler mauled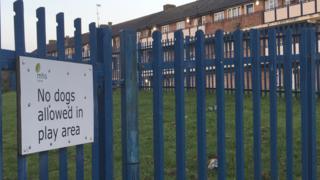 A couple have been jailed after their dog savaged an 18-month-old girl, leaving her with horrific injuries.
The toddler faces years of major surgery on her scalp after the attack on 4 April 2017.
Michael Thornton, 27, and Hayley Eldridge, 29, from Chatham, Kent, pleaded guilty to owning a dog which was dangerously out of control in a public place.
At Maidstone Crown Court Eldridge was jailed for 21 months and two weeks.
She was given with a further 16 weeks for perjury.
Thornton failed to turn up at court and was given two years in his absence.
Both defendants were disqualified from owning a dog for five years.
The court was told the girl, who cannot be named, was attacked by the pit bull terrier-type dog as she played with her older sister on the Jenkins Dale estate in the town.
Witnesses described the toddler being dragged around by her ponytail and "shaken like a rag doll".
The dog was later shot dead by firearms officers.
The jury heard the couple had left the dog in the care of a 15-year-old girl who took it into a playground.
They had given her cannabis in return for walking their pet, which was a breed banned under the Dangerous Dogs Act 1991.
'Horrible injuries'
The victim's parents said they faced years of hospital visits when they should be taking their daughter to children's parties.
In a statement read to the court, her father said: "The injuries she suffered were horrible, just horrible. We had no idea whether she was going to survive them or not.
"This attack has robbed her of some of the most important moments of her life," he added.