Sainsbury's Lego cards' pack 'contained knife blade'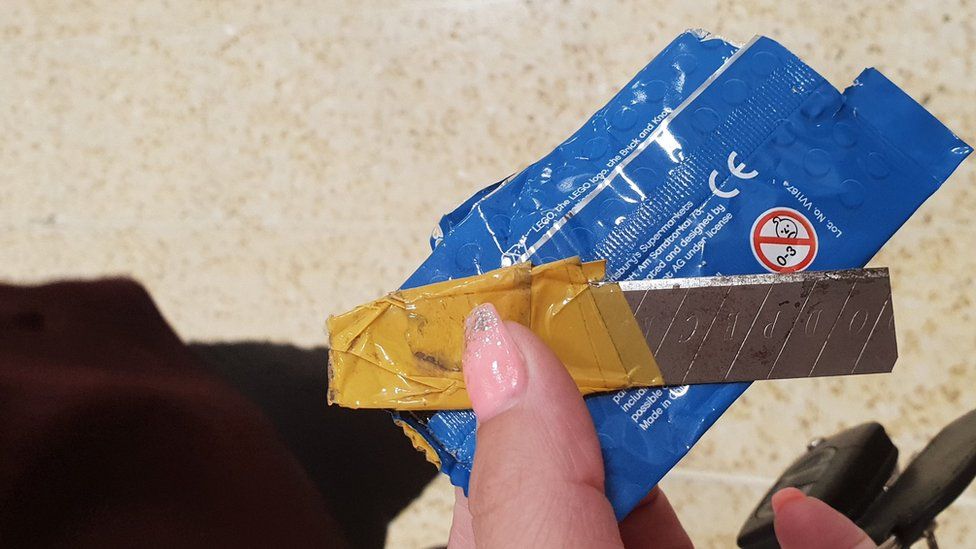 A mother has told the BBC of her "absolute disgust" at discovering the blade of a knife in a pack of children's Lego cards from Sainsbury's.
Kirsty Thorne, from Kent, was shocked when her three-year-old son showed her the blade he found when the pack was opened.
Lego cards are a range of collectable cards available from the supermarket chain.
Sainsbury's says it appears to be an "isolated and unusual incident".
Ms Thorne had hoped to treat her sons by buying them a couple of Lego book albums and card packs while on her visit to her local Sainsbury's in Ashurst, Kent.
"It didn't look like it had been tampered with so when I got home I just put the card packs on the table," Ms Thorne told the BBC.
"They were all playing at the table going through the cards and that's when my son brought it to my attention.
"It looked like the blade had been placed in the pack before it was sealed. It was the perfect size to fit in that packet."
Ms Thorne was relieved her children had escaped without injury.
"My youngest had been opening the packs in his mouth," she explained.
A Sainsbury's spokesperson said, "We are aware of an issue with a pack of Lego cards. This appears to be an isolated and unusual incident which we are investigating with our supplier."
The Sainsbury's supermarket where Ms Thorne bought the cards has given her £10 as a goodwill gesture.