Kent grammar pupils 'targeted as money mules'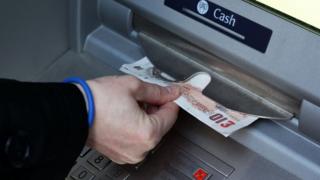 Grammar school pupils in Kent are being targeted by drugs gangs seeking to groom them as "money mules", BBC South East has discovered.
An investigation found London gangs are targeting Kent youngsters.
Gang members target buses used by school students and use an app to send messages offering money in exchange for use of bank accounts.
It is thought they are targeting youngsters with good backgrounds who police would never suspect.
A mule allows their bank account to be used by others to transfer money in and out of it, and in return, keep some of the money for themselves.
If caught, money mules have their bank accounts closed and could face jail.
In Kent, "county lines" gangs seeking to launder money made through drug dealing are believed to be targeting a number of schools.
One is Wilmington Grammar near Dartford, which said it was taking steps to reduce the risk.
The gangs use AirDrop - an app that allows transfer of files to other Apple devices nearby - to send the messages which offer youngsters hundreds of pounds.
The photo messages ask for specific banks, such as Sants, meaning Santander, or Natty, which refers to NatWest.
The amount of money being laundered can be in the thousands.
'You are at risk'
Francis Osei-Appiah, chief executive of Kent-based charity Reform, Restore, Respect, which helps vulnerable young people, said: "It's certain schools where these gangs think these young people or students tick a box."
He said the gangs wanted children who "police would never suspect, they go under radar, ones with really good backgrounds".
Kent police and crime commissioner Matthew Scott said: "Criminals are going out of their way to exploit people from all backgrounds whether they are deprived backgrounds or whether they are wealthy, whether they attend grammar school or comprehensive, or even in some circumstances youth clubs.
"The problem is they are making it financially beneficial to these individuals to help them launder money.
"What we need to do is get the message out there that when you are working with these criminal gangs, they will dispose of you if you do them wrong, you are putting yourself at risk."
In a statement, Wilmington Grammar School said: "A growing number of schools are facing the risk of pupils being targeted by criminals, not just at school but wherever young people gather including youth clubs, transport to and from school and other public places.
"We continue to take steps to reduce this risk where we can, including educating pupils, parents and the wider community on the issue of financial fraud, sharing information with other schools and working with organisations such as Action Fraud and NatWest Bank."