Hilary Lister: Record-breaking quadriplegic sailor dies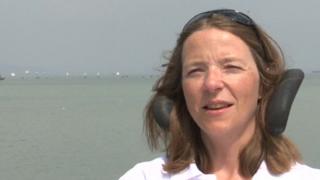 Hilary Lister, the first quadriplegic person to sail across the English Channel, has died at the age of 46.
Ms Lister, from Dunkirk, Kent, made the journey in 2005 using straws in her mouth to control her boat.
She was also the first disabled woman to sail solo around Britain and set another record by crossing the Indian Ocean.
Her stepson, Alex Lister, said: "She was the definition of an inspirational woman."
He added: "She turned the suffering she was experiencing into an opportunity."
Her mother, Pauline Rudd, described her daughter as "gifted" and added: "She inspired me, she inspired all of us to take risks, to live life to the full.
"We were very privileged to have her as a daughter and as a sibling."
A progressive neurological disorder, reflex sympathetic dystrophy, left Ms Lister in a wheelchair from the age of 15. She gradually lost the use of all her body from the neck down.
Mrs Rudd said: "There was nothing the medics could do except pain control. It was just a creeping paralysis."
'Cloud nine'
In September 2003, Ms Lister was taken sailing on a lake by a friend and fell in love with the sport.
Speaking to the BBC in 2014, she said: "It's just incredible, that feeling of utter freedom, the ability to move around and go where I want, when I want."
Sarah Treseder, Chief Executive of the Royal Yachting Association said: "Hilary often said that sailing was like being given wings. How she flew. Her achievements stand apart - single handed round the Isle of Wight, circumnavigating Britain, crossing the Arabian Sea to name but a few, all using sip and puff technology to steer and control the sails.
"Hilary will be much missed, but what she achieved in her short life and how she went about it will be long remembered."
Describing her trip across the Channel, her stepson said: "People thought she was nuts but she went out and did it and she was on cloud nine."
He said she had "not been well for a while" and her death "was unexpected [but] wasn't a massive surprise to her family".
He added: "That doesn't make it any easier for her mother, her brothers, all the people who loved her very dearly."
Mrs Rudd said: "When she was 21 and doing her finals, she was on a morphine drip in Oxford. We really didn't believe that she would survive very long.
"Every day since then has been a gift and a blessing. I always knew I was going to have to let her go."