Biker jailed after grandfather died crossing Cliftonville road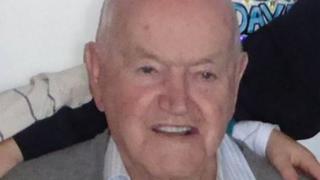 A biker disqualified from driving has been jailed for causing the death of a 90-year-old pedestrian.
Thomas Barron died after being struck in Northdown Road, Cliftonville, in Kent, on 19 August last year.
He had been crossing the road when he was hit by motorcyclist Peter Manzi, of St Luke's Avenue, Ramsgate.
Manzi, 25, was jailed for five years and 10 months at Canterbury Crown Court on Tuesday after pleading guilty to causing death by dangerous driving.
He was also disqualified from driving for seven years.
Two other charges of driving without due care and attention and driving while disqualified will lie on file.
Kent Police said forensic results showed Manzi's average speed at the time Mr Barron was hit had been 59mph.
During interview Manzi, who had cannabis in his bloodstream, told police that he assumed the pedestrian would have heard his motorbike approaching as it was very loud.
Witnesses also reported seeing him riding through Cliftonville and Broadstairs at high speeds over the 30mph limit and carrying out dangerous manoeuvres to overtake other vehicles.
Senior investigating officer Sgt Chris Wade said Manzi showed "no respect for the law, nor other road users and his actions led to the most severe and tragic of consequences".
Mr Barron was described by relatives as a "cheerful" grandfather who was at "the centre of the family".