Man jailed after Afghans found in van 'sarcophagus'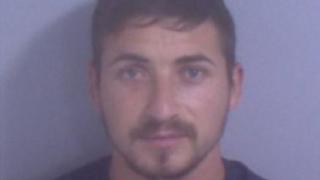 A man has been jailed after two Afghan migrants were found in a "sarcophagus" in his van.
Nelu Spinu, 23, of no fixed address, pleaded guilty to assisting unlawful immigration into an EU state.
The Afghan pair, a man and his daughter, aged 14, were found in a "hide" under the floor of Romanian Spinu's van, while he was in France.
He was stopped by UK Border Force officers in Coquelles near Calais on 14 May, Maidstone Crown Court heard.
The court heard the van's exhaust had been moved to allow the hide to be created, and ran "dangerously" alongside the hiding place.
Sentencing Spinu to 14 months in jail, Recorder Mark Weekes described the specially adapted hiding place as "being like a sarcophagus".
Following the hearing Dave Fairclough, from the Home Office's immigration enforcement's criminal and financial investigation team, said: "Spinu put these two people in terrible conditions, with very little air and the re-routed exhaust pipe dangerously close to their hiding place.
"Had the vehicle been involved in an accident, there would have been no means of escape from the secret compartment."
'Risk of death'
Spinu told the court he had been paid by a man in Romania to take part in the operation and had never intended to put the people he smuggled in danger.
He claimed this was the first time he had done "anything like this", but the judge told him he "had his doubts".
He told Spinu: "This was an astonishingly dangerous installation. It carried with it the risk of death or serious injury to those within it.
"It was a rudimentary but sophisticated device for bringing unlawful immigrants into the country.
"It is inevitable that this offence was committed for financial gain. Illegal entry was facilitated for strangers and there was a high degree of planning and sophistication."