Channel Tunnel rail delays due to heat, Eurotunnel says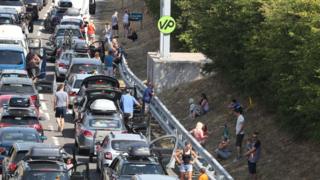 "Unprecedented" high temperatures have been blamed for delays to cross-Channel rail services leaving customers waiting for more than five hours in 30C heat.
Air conditioning problems meant some carriages could not be used, which led to the delays, Eurotunnel said.
People voicing their frustration online tweeted pictures of the queues and children and pets getting hosed down.
Thousands of tickets have also been cancelled for Friday, for passengers returning that day or Saturday.
Eurotunnel suggested people cancel trips if they were able to and warned that ferry companies "do not have the availability take any of our customers".
The firm said it planned to run additional trains through Thursday night and more wagons will become available as temperatures cool.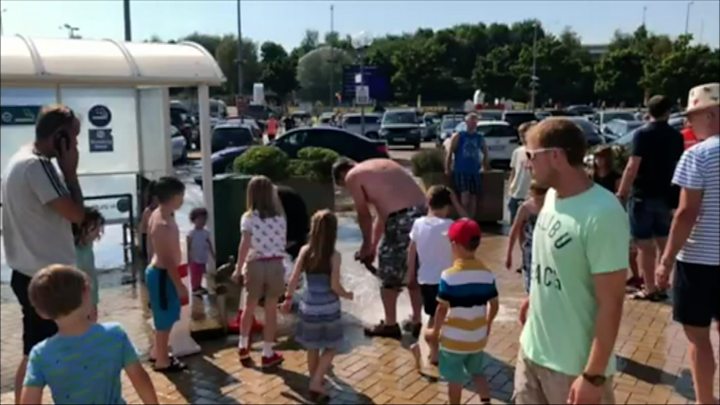 Temperatures in east Kent are currently at 30C, according to BBC weather forecasters. One driver said they had recorded 44.1C in a car.
Eurotunnel said the queues were on the UK side because of the sheer numbers of France-bound passengers at the start of the holidays.
Travellers were forced to queue for 90 minutes just to check in, and a further five hours for the next available slot, according to the operator.
Just before 10:00 BST, Eurotunnel tweeted: "Due to the unprecedented temperatures and level of traffic booked today, customers arriving early [more than 2 hours before booked travel time] will not be able to check in."
However, as disruption grew worse, customers took to social media with Ian W advising people on Twitter to "get the ferry".
Stewart Brownrigg, who tweeted pictures of the queues and children and pets getting hosed down, said: "Kudos to the #eurotunnel staff for keeping their cool while everyone else around was losing theirs! My anger is with the company, the staff here have been doing their best in the baking heat."
Dickie Whitaker tweeted: "Delays on @LeShuttle not great in this heat but some managers came out to help and were cheerful which is appreciated."
People waiting in the Folkestone boarding lanes were told to collect bottles of water from a refrigerated van.
Others waiting to check-in were urged to carry plenty of drinking water and take a comfort break beforehand.
Eurotunnel said: "We strongly recommend you stock up with drinking water before you arrive at our terminal, there is a long queue to check-in with no access to facilities."
Eurotunnel carries passengers in cars, vans and other vehicles through the tunnel.
Eurostar, which runs foot passenger services between London and several European cities, said its services had not been affected.
Eurotunnel tweeted that those travelling with pets were welcome to take them into the passenger terminal lounge and also the toilet area.
About 12,000 vehicles are trying to cross to France at the start of the holidays, compared with 3,000 on an average, off-peak day.
A Eurotunnel spokesman said: "We'll keep things moving. Whether we are able to get everything clear depends on temperature and certain other elements.
"We are doing everything we possibly can. We know this is a critical time of year.
"Everything is hot inside the trains. The cars are hot. The engines are hot. All of that is putting pressure on the air conditioning."