Sick Bengal kittens 'left for dead' in Swanley street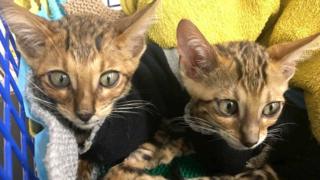 Two sick Bengal kittens are lucky to be alive after they were "left for dead" when they were dumped "like rubbish" during the heatwave.
The RSPCA is appealing for information after the two very thin 10-week-old females were found on the same road in Swanley, Kent, a day apart.
One of the kittens was so ill it had collapsed when it was discovered in Hockenden Lane, the charity said.
It is thought they may have been bred for money.
Now named Mon and Amie, they are receiving intensive care at a veterinary practice in Orpington.
'Tiny jumpers'
They have been put on drips and medication and are being syringe fed.
Nurses have also made them tiny jumpers and socks to keep them warm.
RSPCA inspector Anthony Pulfer said: "These poor kittens were dumped during the hot weather and left for dead.
"They were so poorly it's just lucky that they were found when they were as I don't think, given their health problems, they would have lasted much longer in the extreme heat."
He said Bengal kittens were a very sought-after breed and when they became sick they were "just dumped like a piece of rubbish".