Kent Spitfire fleet 'to fly England team home'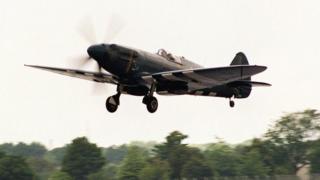 Six Spitfires in formation will accompany the England team when they fly back from the World Cup under plans drawn up by an aviation enthusiast.
Keith Perkins, director of a heritage flights company operating out of Kent, said his fleet of vintage aircraft would accompany the team back.
He had the idea after England won their first World Cup penalty shootout.
The Civil Aviation Authority and Football Association have not yet commented to the BBC.
'We can win'
Mr Perkins, who runs flights out of Headcorn Aerodrome, told BBC South East he was prepared to send out the Spitfires without waiting for the semi-final or final, because the team deserved the honour simply for breaking their World Cup penalty curse.
"They're an outstanding football team and an outstanding symbol of England," he said.
"We don't know when they're coming back, but hopefully not too soon.
"We wanted to recognise their achievement and show the best side of England."
Mr Perkins claimed he only needed the permission of the airline for the Spitfires to join the flight in UK air space and escort them in formation as far as they can to their destination.
"The only thing we don't know is the date," he said. "We're on standby."
George Cohen, who played for the England side that won the 1966 World Cup, said he believed England could go through to the final and win.
"We can win. We are there. We've got to go through a couple of games but we can easily compete," Mr Cohen said.
On the Spitfire plan, the 78-year-old added: "It's a nice thing to do, especially if we win. It's some sort of recognition."