World Cup 2018: Colombian mum says 'I'll support England'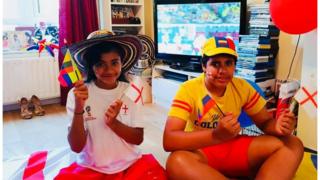 For one family watching the Colombia v England World Cup match there was an extra level of tension.
Colombian Sofia Baguley and her English husband, Kitt, watched the match together in their Tunbridge Wells home.
Sofia said: "I had to cover my head with my Colombian flag and couldn't bear to watch the last two penalties."
James, the couple's 13-year-old son, was supporting both teams, while their daughter, Gabriela, had her headphones on for the game, Sofia said.
"I'm really sorry," the 11-year-old said, after the game, giving her mum a huge hug.
'So unfair'
The couple had prepared a family meal with food from both countries before the match on Tuesday.
England's first ever penalty shootout win in a World Cup secured a quarter-final meeting with Sweden on Saturday afternoon.
Sofia said: "It was horrid watching the match. I dreaded penalties - it's so unfair, isn't it?
For Kitt it was "the happiest time in his life", she said.
"My husband is so happy. He wanted to see England do well in a penalty shootout during is lifetime."
You may also like
The two children remained neutral in the build-up to the match in Moscow, and even Sofia admitted to some mixed feelings following the game.
"I love England so I'm happy deep down.
"I'm really upset now, but it will pass."
Kitt said he felt guilty about celebrating in front of his wife, but the couple say they are now looking forward to supporting England on Saturday.
Sofia said she would now support England and thinks they have a good chance of making it the final.
"If England win the World Cup I'll be glad that we were defeated by the winners."