Power fault disrupts Eurotunnel cross-Channel services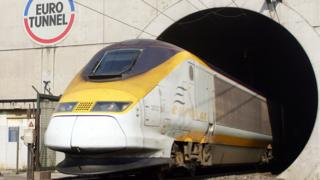 Services were suspended on Eurotunnel after a power supply fault, the cross-Channel rail operator has said.
Passengers took to Twitter to report being stuck on trains at Folkestone for more than three hours. One couple said they were waiting to go on their honeymoon.
Eurotunnel apologised and said the fault had been resolved.
Services resumed at about 13:00 BST but some services still faced delays of up to four hours.
The company said there was an estimated four-hour wait on departure times at Calais and a three-hour wait at Folkestone.
It said trains needed to be put back on their schedule.
On Twitter, one family said they had been stuck on a train at Folkestone for nearly three and a half hours.
"We keep getting conflicting information from Eurotunnel," they said.
Wendy Shakespeare, who was also stuck at Folkestone, said there were no announcements about services resuming.
One "stuck" couple said they were trying to go on their honeymoon.
Eurotunnel said the power supply had been disrupted at the French terminal of Coquelles, but the fault had been repaired.
It tweeted: "We do not underestimate the inconvenience this problem has caused our customers travelling today. We apologise and reassure you that our teams are completely focused on resuming the service as swiftly as possible."