Men 'took artefacts from WW1 HMS Hermes shipwreck in Dover Strait'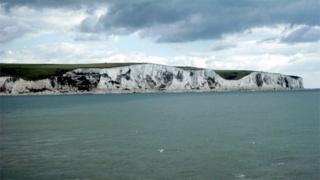 Historical artefacts worth thousands of pounds were taken from a sunken World War One Royal Navy warship by men using winching equipment, a court has heard.
John Blight, 58, and Nigel Ingram, 57, deny charges related to failing to declare items taken from HMS Hermes.
Canterbury Crown Court heard they were involved in "commercial exploitation of shipwrecks" by selling items as scrap.
Artefacts worth about £80,000, among them a torpedo hatch, were found at Mr Ingram's home, the jury heard.
Kent Police started investigating in 2015 with several other bodies in England and France after a number of items were reported missing from the wreck in the Dover Strait.
'Not from the wreck'
Prosecutor Ian Hope told the court the pair had hauled "huge" pieces of wrecks from the seabed using winching equipment on Mr Blight's boat.
He said they had "deliberately and dishonestly" failed to declare them to the authorities as they were legally obliged to do.
About 100 artefacts were seized from Mr Ingram's home, including ships' bells, a torpedo hatch, launch panel, metal ingots and chinaware which had not been declared, as well as about £16,000 in cash, the court was told.
Similar wreck items were also found at Mr Blight's house, Mr Hope said.
Mr Ingram told police he had taken a condenser unit from the "vicinity" of HMS Hermes, but did not think it had come from the wreck itself.
Mr Blight told officers he took Ingram diving at the site but nothing had been taken.
Mr Blight, of Old River Way, Winchelsea, East Sussex, faces four counts of fraud between 2010 and 2015.
Mr Ingram, of London Road, Teynham, Kent, was charged with the same three counts in addition to being in possession of criminal property.
Both men deny all the charges and the case continues.