Nine cut off by incoming tide at Kingsgate Bay, Kent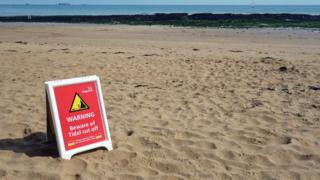 Nine people, including a couple celebrating their first wedding anniversary and a photographer, have been rescued from the incoming tide.
The Margate inshore lifeboat was launched on Saturday afternoon to an initial report of three people stranded at Kingsgate Bay, on the Kent coast.
As the lifeboat left the scene two more people were discovered.
They were brought to safety from the rocks at which point two more adults and two children were seen and rescued.
Another two women were also spotted in the same area, wading in the water towards the main beach.
The lifeboat crew advised them to return the way they had come as that was safer.
A spokesman said Saturday's operation demonstrated how easy it was to get into trouble by the water, and that people should always use a beach where there were lifeguards.
Ian Lowe said: "It was a lovely day to be at the seaside, but not knowing what the tide will do, leading to an unintended spell in the water, can spell disaster."