Political row over Canterbury Pride 'hijack' claim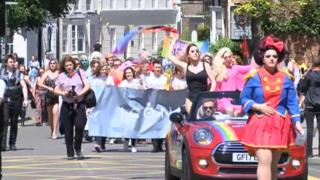 A political row has broken out over Pride Canterbury, Kent's largest LGBT+ event.
In an article on the ConservativeHome website, councillor Simon Cook, leader of Canterbury City Council, said his party had "allowed Labour to hijack the event" in the past.
The city's Labour MP, Rosie Duffield, described the remark as "incendiary".
Organisers rejected Mr Cook's claim and said the event had never been hijacked by any political party.
In a statement, Pride Canterbury chairman Edd Withers said: "Pride Canterbury is for everyone in the LGBT+ community, no matter who they vote for, and so all mainstream political parties have been able to contribute financially to the event.
"We have had dialogue with both the local Labour party and the local Conservative party, both of which are taking part in the event at different levels."
The Conservative Party is one of the headline sponsors of this year's event which is due to take place in the Dane John Gardens on 9 June.
LGBT+ rights have been a political issue in Canterbury in recent years.
The city's former Tory MP, Sir Julian Brazier, was one of those who voted against David Cameron's legalisation of same sex marriage.
Rosie Duffield, the Labour MP who inflicted a shock defeat on him last year, made her first public appearance at Canterbury Pride.
She said her party had "a long history of supporting LGBT equality and rights".