Maidstone sinkhole residents still away from homes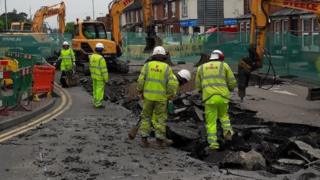 People who had to leave their homes after a large sinkhole opened up in Kent are preparing to spend a second night in temporary accommodation.
The 6ft (2m) void opened up in the A26 in Maidstone on Monday evening.
Maidstone Borough Council said it was still offering temporary accommodation to all affected and expected a further update later.
Highways authority Kent County Council (KCC) said the scene was still being assessed and specialists were on site.
Residents moved from their homes have been allowed day access to the properties but have not been allowed sustained access or to stay overnight.
A KCC spokesman said investigations continued on Wednesday and it was not yet known what had caused the sinkhole to appear.
KCC Highways tweeted on Wednesday that road closures remain in place.
Preliminary investigations said the collapse was "both significant and severe with the collapse currently visible on site representing a larger void underneath the road."
It was suggested the void underneath the surface stretched from kerb to kerb for 65ft (20m).
The main route had numerous pipes and ducts under the surface for utilities and services including gas, water and electricity, the council said.
It said work would involve significant liaison with utility firms and significant care when excavating the road which may affect the timescale of the work.
KCC has said repairs could take weeks.
Witnesses described a police car overtaking vehicles and blocking the A26, just before part of it collapsed.
Motorists said they heard a "crunching sound" before the sinkhole appeared.