New plans for Operation Stack unveiled to keep Kent moving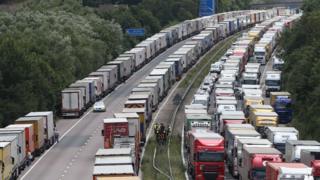 Changes to a queuing system for lorries on a Kent motorway have been outlined by the government.
Operation Stack is currently used on closed sections of the M20, where lorries park while waiting to cross the Channel when traffic is disrupted.
Now a new strategy, called Operation Brock, will use a contraflow to keep the roads open when problems arise.
Roads minister Jesse Norman said the "interim plan" will start early in 2019 while a permanent solution is found.
In 2015, queues of 4,600 lorries stretched back 30 miles and the daily cost to the UK economy was estimated at £250m.
Mr Norman added: "We've seen the severe disruption that people in Kent had to face in 2015 when there were hold ups across the Channel.
"This interim plan will help to minimise that disruption and mean people will be able to go about their everyday lives, seeing friends and family or going to work, as well as businesses being able to get to their customers."
A contraflow system on the northbound carriageway will allow traffic to travel in both directions between junctions 8 (Maidstone) and 9 (Ashford), while lorries are queuing on the other side.
Drivers will be able to access both junctions, rather than being diverted onto smaller local roads.
Highways England is due to improve the northbound hard shoulder ready for the change, and is to launch a public consultation on a permanent solution.
This will include asking locals, businesses and the freight industry whether they would rather an on-road solution or an off-road lorry park.
A spokeswoman for the Freight Transport Association said: "These policies won't solve the problem overnight but we see today's announcements as a good step in the right direction and now want to work with government to ensure we develop the facilities that our lorry drivers need."