Kyle Yule death: Murder accused 'told to flee'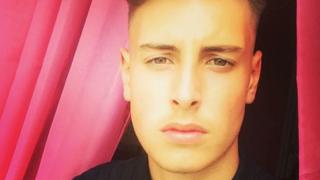 A 17-year-old boy accused of murdering a teenager has told a court he was told by other gang members to clean away evidence and flee.
Kyle Yule, 17, from Gillingham, died after being chased from a parked car in East Street, after a row between rival groups on 6 October.
Victor Maibvisira, 19, and four other boys under the age of 18, deny murder.
The 17-year-old told Maidstone Crown Court a group had gone into Gillingham after Mr Maibvisira's bike was stolen.
He said he and his friends surrounded a Renault Clio and he used the handlebar of a stolen bike he was riding to smash a window to scare Kyle, who was inside.
'Stabbed in the legs'
The 17-year-old said the whole group surrounded Kyle after he escaped from the car, and followed him to the garden of a friend's house nearby.
He said Mr Maibvisira, known as V, had appeared to punch him and Kyle shouted out: "V stop, I've had enough, I get the point."
The teenager said he was further up the road on his bike and as the group started running he rode away.
He told the court several teenagers were later at a flat when Mr Maibvisira turned up with a 7in knife with blood on it.
"From what he [Victor] said I didn't realise it would be serious or fatal in any way. He just said he'd stabbed him in his legs."
'Anxious and scared'
He told the jury the following day he got a phone call from Mr Maibvisira telling him to check online for updates on the killing.
He said: "He told me that the boy who had been stabbed had died.
"He said he was leaving the area and told me to get out of Kent as well, and he told me to throw away my SIM card.
"V did not sound like himself. He sounded anxious and scared."
Mr Maibvisira, the three 17-year-olds and a 16-year-old, who cannot be named because of their ages, are also accused of violent disorder.
One of the 17-year-olds is also facing a count of affray.
The trial continues.