Knockholt railway station killer jailed for 26 years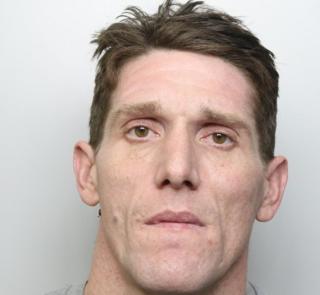 A man who chased a 23-year-old off the end of a railway platform before stabbing him to death has been jailed for life.
Jamie Simmons, 37, of Blackfriars Road, Southwark, will serve a minimum of 26 years for killing Samir Draganovic at Knockholt station on 5 November.
The men were caught on CCTV as Simmons chased Mr Draganovic, whose body was found close to the tracks.
The victim's body was spotted hours later by a passing train driver.
Simmons was found guilty at Inner London Crown Court on Thursday following a three-week trial.
In court, he tried to plead guilty to manslaughter by diminished responsibility, saying he could not remember the incident.
He never told police or the court why he had killed Mr Draganovic, of Croydon.
Det Ch Insp Paul Langley, from British Transport Police, said: "The evidence against Simmons was so compelling, the jury took less than 90 minutes to reach a verdict of guilty.
"This was a brutal attack against a young man and appears to have been entirely random.
"Samir was simply on his way home."
The Crown Prosecution Service (CPS ) said the motive for the "brutal attack" remained unclear.
Jason Corden-Bowen, district crown prosecutor at the CPS said: "Although it was proved by using data from his phone and through CCTV footage from the station that Simmons was in the vicinity of the murder at the time it occurred he denied killing Samir Draganovic.
"He finally accepted on the first day of trial that he was responsible for the death, but maintained that he was not guilty of murder."
He said: "The jury clearly and quite properly rejected that account."